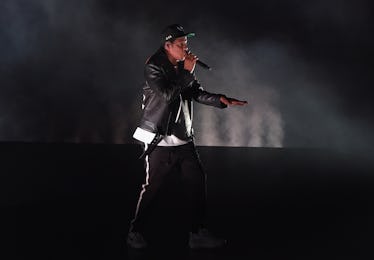 JAY-Z's "Family Feud" Music Video Features Blue Ivy, So Fans Have One Question
Gustavo Caballero/Getty Images Entertainment/Getty Images
Stop what you're doing and pay attention to me, JAY-Z, and Beyoncé. On Dec. 28, the first teaser to JAY's "Family Feud" music video pummeled its way onto Twitter. People are full-on losing it because the video clearly features wifey Bey and their baby girl Blue Ivy. Fans are obviously wondering, will Rumi and Sir Carter be in JAY-Z's "Family Feud" music video, too? I MEAN, I DON'T KNOW. WHAT DO I LOOK LIKE? A WIZARD?
The truth is, no matter how much sleuthing and guessing we do, this power couple will always keep us on our toes. Just when we thought a more ideal partnership couldn't exist, Beyoncé went and released Lemonade, shattering our perfect image of true love by revealing JAY cheated on her. (I know. It never get's easier to hear.) Of course, JAY followed that up with the release of his equally fascinating and revealing album, 4:44. Not only did he admit to everything over the 10 tracks, he also referenced the couple's perfect newborn twins.
"Family Feud" is also the only song on the whole album featuring Beyoncé, and the teaser is a real emotional mind f*ck. First of all, it takes place in a church. (Whatever that means.) Second, Queen B is giving us serious face, wearing all black, and chilling at the altar while Blue and her dad, JAY, walk hand in hand through the pews. The part that has people most freaked out is when JAY-Z sits down in a confessional room opposite Beyoncé. It's intense. It's scary. It's gorgeous. It's... it's...
Actually, I need a moment. You guys just watch.
How's everybody doing? Are you guys hanging in there?
As far as Rumi and Sir are concerned, my hunch is this music video was either filmed way before they were born, or they were too tiny to participate. But again, I can't stress enough how much I am not Beyoncé or JAY-Z, so I honestly can't say.
The twins were born on June 13, 2017, and this "Family Feud" teaser was released a little over six months later. Most likely, the two siblings were napping somewhere while their mom and dad "went to work" that day to film it. Plus, the song itself is a little intense for newborns.
Check out some of these lyrics:
Super Bowl goals. My wife in the crib feedin' the kids liquid gold. We in a whole different mode. Kid that used to pitch bricks can't be pigeonholed. I cooked up more chicken when the kitchen closed. Oh, we gon' reach a billi' first. I told my wife the spiritual sh*t really work. Alhamdulillah, I run through 'em all. Hovi's home, all these phonies come to a halt. All this old talk left me confused. You'd rather be old rich me or new you? And old N*****, y'all stop actin' brand new. Like 2Pac ain't have a nose ring, too.
...Yeah, I'll f*ck up a good thing if you let me. Let me alone, Becky. A man that don't take care his family can't be rich. I'll watch Godfather, I miss that whole sh*t. My consciousness was Michael's common sense. I missed the karma and that came as a consequence. N***** bustin' off through the curtains 'cause she hurtin'. Kay losin' the babies 'cause their future's uncertain. Nobody wins when the family feuds.
Seems a little heavy for wee babies, no?
Either way, we'll find out if the twins are included soon enough. The full video is scheduled to drop on Friday, Dec. 29, and we'll be waiting.
Check out the entire Gen Why series and other videos on Facebook and the Bustle app across Apple TV, Roku, and Amazon Fire TV.