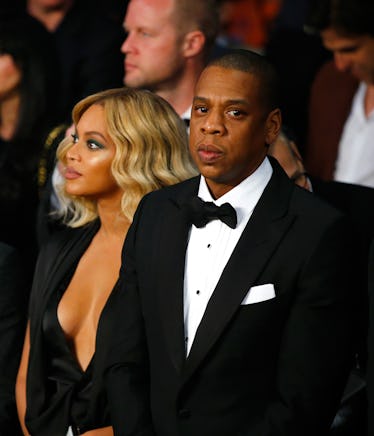 JAY-Z Got Candid About His Relationship With Beyoncé & Why He Cheated On Her
Al Bello/Getty Images Entertainment/Getty Images
There are a lot of different types of couples in today's spotlight: Couples we root for, pairs we don't understand, just plain adorable matchups, and the undeniable Hollywood royalty. Only a few people fall into this "royalty" category — it's an exclusive club. However, when it comes to the music world, Beyoncé and JAY-Z reign supreme. That's why it was so shocking when the rumors of infidelity were confirmed in both Bey and JAY-Z's albums. Why did JAY-Z cheat on Beyoncé? The rapper opened up about the sensitive topic during a recent interview with The New York Times' T Magazine.
Basically, our entire lives and ideas about love came crashing down when Beyoncé released her visual album, Lemonade, on April 23, 2016. Critically renowned as one of her greatest pieces of work, it was mostly a sh*tstorm directed at JAY-Z for cheating on her.
Her sixth studio album and second visual album contained lyrics like,
Who the f*ck do you think are you? You ain't married to no average b*tch, boy.
Let's not forget burning the term "Becky" into our everyday lingo.
He better call Becky with the good hair.
Lemonade was a bad*ss album that put JAY-Z right in his place. YOU BEST BELIEVE THINGS WERE NOT GOOD AT THE CARTER HOME, SIS.
In response to Lemonade, JAY-Z released 4:44 on June 30, 2017. His 13th studio album is deep. It really delves into the rapper's personal problems, his childhood, and more. Obviously, he addressed his own infidelity. In the title track, "4:44," JAY-Z says,
And if my children knew, I don't even know what I would do / If they ain't look at me the same / I would probably die with all the shame / "You did what with who?" / What good is a ménage à trois when you have a soulmate? / "You risked that for Blue?"
Why anyone would cheat on Beyoncé is honestly beyond me, but at least he owned up to his mistakes.
Jay-Z got more personal about these rocky moments in his marriage while speaking with T Magazine. The rapper opened up about going to therapy where he learned, "Every emotion is connected and it comes from somewhere. And just being aware of it. Being aware of it in everyday life puts you at such a ... you're at such an advantage."
He explained that growing up in the Marcy projects of Brooklyn required going into "survival mode." Specifically, that means shutting down emotionally, and that has affected his relationships. He rationalized,
You have to survive. So you go into survival mode, and when you go into survival mode what happen? You shut down all emotions. So even with women, you gonna shut down emotionally, so you can't connect ... it's, it's deep. And then all the things happen from there: infidelity ...
As far as the timing of albums, Beyoncé and JAY-Z actually spent a lot of time in the studio together. He said,
We were using our art almost like a therapy session. And we started making music together. And then the music she was making at that time was further along. So her album came out as opposed to the joint album that we were working on. Um, we still have a lot of that music. And this is what it became. There was never a point where it was like, "I'm making this album." I was right there the entire time.
JAY-Z described the reaction to each other's songs as "uncomfortable," but the "best place is right in the middle of the pain."
No matter what, JAY-Z assures that both he and Bey have immense respect for each other's music. He gushed,
And that's where we were sitting. And it was uncomfortable. And we had a lot of conversations. You know. [I was] really proud of the music she made, and she was really proud of the art I released. And, you know, at the end of the day we really have a healthy respect for one another's craft. I think she's amazing.
As far as divorce, JAY-Z explains that the key to keeping his marriage afloat was dealing with his own issues.
You know, most people walk away, and like divorce rate is like 50 percent or something 'cause most people can't see themselves. The hardest thing is seeing pain on someone's face that you caused, and then have to deal with yourself ... So, you know, most people don't want to do that. You don't want to look inside yourself ... And so you walk away.
Obviously, no marriage is perfect. Beyoncé and JAY-Z work overtime to keep things on track. I'm glad they are able to move forward from infidelity, but it definitely doesn't sound easy. This is why they will always be Hollywood royalty.
Check out the entire Gen Why series and other videos on Facebook and the Bustle app across Apple TV, Roku, and Amazon Fire TV.