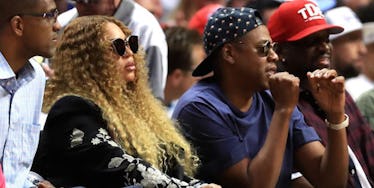 JAY-Z Admits Relationship With Beyoncé Wasn't "Built On The 100 Percent Truth"
Sean M. Haffey/Getty Images
We're not done reacting to everything JAY-Z brought us with his most recent album, 4:44. Not by a long shot.
JAY dropped the album on June 30 and on it he said... well... a bunch of stuff. Most importantly, he admitted to cheating on Beyoncé.
I know. It still hurts.
Back in 2016, Beyoncé dropped her album Lemonade on the world, and we were never the same. It was also the first time we heard of JAY's infidelity and Becky With The Good Hair.
Ah, Becky.
Now, JAY is owning up to it all.
In his track 4:44, he raps the lyrics:
And if my children knew, I don't even know what I would do / If they ain't look at me the same / I would probably die with all the shame / "You did what with who?" / What good is a ménage à trois when you have a soulmate? / "You risked that for Blue?"
It's like, woah.
And JAY isn't done.
In his series Footnotes, JAY explores the topic of relationships with other famous men of color, such as Chris Rock, Jesse Williams, Aziz Ansari, Will Smith, and Mahershala Ali.
In the series, each celebrity opens up about their past relationships or experience with love, and JAY continues to let us in a little deeper.
On his relationship with Beyoncé, JAY explains,
This is my real life. I just ran into this place and we built this big, beautiful mansion of a relationship that wasn't totally built on the 100 percent truth and it starts cracking. Things start happening that the public can see. Then we had to get to a point of 'Okay, tear this down and let's start from the beginning' … It's the hardest thing I've ever done.
He added that the only way he could rebuild his relationship with Queen B is by being totally honest.
We just got to a place where in order for this to work, this can't be fake. Not one ounce. I'm not saying it wasn't uncomfortable because obviously it was.
You can watch the whole episode on Tidal. Just brace yourself.