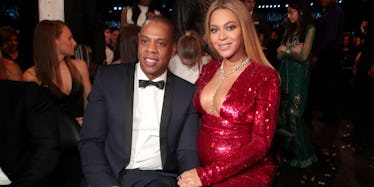 JAY-Z Apparently Had Every Song On '4:44' Approved By Beyoncé, So Don't Worry
Getty Images
The solo producer on JAY-Z's 4:44 opened up about the creative process behind the album in an interview with The New York Times, and he revealed Beyoncé actually played a huge role in the creation of the album.
Because of COURSE she did. Getting Beyoncé's approval on things is the correct thing to do in literally every circumstance ever.
4:44 is JAY-Z's thirteenth studio album (yes, you read that right... thirteenth), but this was reportedly the first time in his career that he only had one producer working on the album with him — showing just how intimate he wanted the work to be.
That producer is No I.D. (whose real name is Dion Wilson), and he's revealed a lot about the creation of 4:44. When asked about Beyoncé, Wilson said,
I always call Bey our de facto A&R. Pillow talk is the strongest conversation on the planet. Every song has to get past her ears, in my eyes. She came by a lot and played a good part in helping us get over hurdles on certain records. Of course she's genius-level with that.
"Genius-level" is the reaction I want people to give me anytime I say anything ever. "How's my hair lookin'?" "Genius-level." "Do you guys like this tweet I'm about to post?" "Genius-level." "How's this Insta caption, fam?" "Genius-level." Got it? Great. Moving on.
Wilson even addressed the point so many fans have been raising that 4:44 seems to be JAY-Z's response to Lemonade.
The lyrics in the album's titular song directly address the fact that JAY-Z cheated on Beyoncé. He raps,
And if my children knew, I don't even know what I would do. If they ain't look at me the same, I would prob'ly die with all the shame. 'You did what with who?' What good is a ménage à trois when you have a soulmate? 'You risked that for Blue?' I wasn't a superhero in your face. My heart breaks for the day I had to explain my mistakes.
JAY-Z talked about the song and the meaning behind its name in an interview with iHeart Radio after the album's release. He said,
'4:44' is a song that I wrote, and it's the crux of the album, just right in the middle of the album. And I woke up, literally, at 4:44 in the morning, 4:44 a.m., to write this song. So, it became the title of the album and everything. It's the title track because it's such a powerful song, and I just believe one of the best songs I've ever written.
Wilson said he didn't want the entire 4:44 album to be a Lemonade response, but he knew it needed to be addressed. He said,
One that I didn't see him record that really hit me was obviously '4:44.' Me, him and Guru, his [recording] engineer, knew that we didn't want him to do an album of Lemonade response. We just wanted him to respond and then let it be and still touch on other things. I created that beat to box him into telling that story. I put the sample from the singer Hannah Williams — it starts off with, 'I find it so hard/When I know in my heart/I'm letting you down everyday.' I remember him hearing it and looking at me like, 'O.K., fine.'
The Hannah Williams song Wilson's referring to is called "Late Nights & Heartbreak." Clips of it are used all throughout "4:44" as the intro and the chorus. It's a pretty poignant song to pair with JAY-Z's lyrics.
4:44 is about much more than responding to Lemonade, though. It touches on racial inequality, JAY-Z's rocky relationship with Kanye West, fatherhood, his infamous fight with Solange, his mother's coming out, and leaving behind a lasting legacy.
If you haven't listened to it already, literally, what are you doing? GET TO TIDAL RIGHT NOW IMMEDIATELY.
I know y'all can find a way to get another free trial if you've used yours already. Create a new email. Create a new identity, IDGAF. Just do it for Beyoncé, as we must do all things.