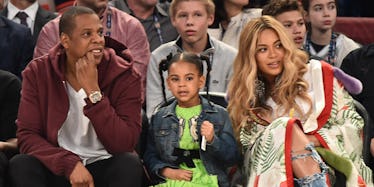 Blue Ivy Has An Emotional Line In JAY-Z's '4:44' Album, But You Probably Missed It
Getty Images
Weeks after welcoming twins with his longtime love, Beyoncé, JAY-Z is reclaiming his stake in the music industry.
On June 30, the 47-year-old rapper debuted his 13th album, 4:44, on Tidal, and it features some familiar references and voices — including his eldest daughter's.
That's right, Blue Ivy actually opens the last track, called "Legacy," with an emotional line.
"Daddy, what's a will?" she adorably asks.
Then, her famous dad takes it from there, rapping about — you guessed it — his legacy to the tune of bold jazz sounds.
"The song is just about what it is," JAY-Z explained to iHeartRadio, "it's like a verbal will. Just a song about speaking to my daughter."
It's so good!
Aside from Blue's extremely cute intro, "Legacy" is jam-packed with thought-provoking lines about JAY-Z's upbringing, family, and future.
At the end of the first verse, for instance, he pays tribute to his hardworking mom with a set of powerful lyrics. He raps,
There was a time America wouldn't let us ball / Those times are now back, just now called Afro-tech / Generational wealth, that's the key / My parents ain't have shit, so that ship started with me / My mom took her money, she bought me bonds / That was the sweetest thing of all time, uh
As far as JAY-Z's inspiration behind the title track "4:44," JAY-Z told iHeartRadio he woke up at 4:44 in the morning to write the tune. "I just believe one of the best songs I've ever written," he declared.
It should be noted that the entire album is being called a response to Beyoncé's wildly-successful Lemonade, complete with a reference to "Becky with the good hair" in "Family Fued":
Yeah, I'll f*ck up a good thing if you let me / Let me alone Becky!
You can listen to the full thing exclusively on Tidal.
I personally have it on repeat.