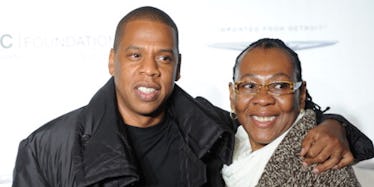 JAY-Z Wrote A Song About His Mom In '4:44' And It Will Make You Want To Text Yours
Jamie McCarthy/Getty
JAY-Z's 13th album, 4:44, and fans are scrambling to find all the hidden meaning in all 35 minutes of lyrics.
There's the obvious drama with Beyoncé, Lemonade, Becky, and Solange. But in the third song on the album, "Smile ft. Gloria Carter" we get some info on JAY-Z's family: his mom.
JAY reveals his mother is a lesbian who has struggled with being closeted to the public in this song, rapping,
Mama had four kids, but she's a lesbian / Had to pretend so long that she's a thespian / Had to hide in the closet, so she medicate / Society shame and the pain was too much to take / Cried tears of joy when you fell in love / Don't matter to me if it's a him or her.
These lyrics suggest Mrs. Carter suffered from carrying this great secret in a bigoted society.
Don't think JAY was taking his mother's story away from her, though. Gloria Carter gets her own verse on the track, in the spoken-word outro. She says,
The world is changing and they say it's time to be free / But you live with the fear of just being me / Living in the shadow feels like the safe place to be / No harm for them, no harm for me / But life is short, and it's time to be free / Love who you love, because life isn't guaranteed.
Mrs. Carter appears to be addressing the reason she kept her sexuality under wraps for so long, and why she had chosen to come out now.
Previously, JAY-Z has voiced his strong support for same-sex marriage and LGBT rights.
In a 2012 interview with CNN, the rapper said,
What people do in their own homes is their business and you can choose to love whoever you love. That's their business. [It] is no different than discriminating against blacks. It's discrimination plain and simple.
Gloria Carter is also an author and philanthropist. She co-founded the Shawn Carter Foundation with her son, which provides funds for low-income students to attend college.
Wow. Thank you for this gay blessing on the last day of Pride Month, Carters!