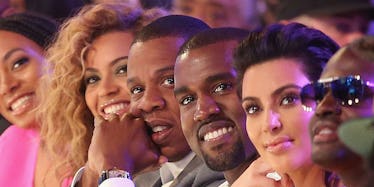 Did JAY-Z Throw Shade At Kim Kardashian On His New Album? Fans Think So
Christopher Polk/Getty Images For BET
Last night, while we were all sleeping, JAY-Z dropped his thirteenth studio album, 4:44, and the world will never be the same.
However, fans are talking about one mysterious line circulating on Twitter. Wait a minute, JAY, are you throwing shade at Kim Kardashian?
In the social media explosion that followed the album drop, one lyric began making rounds, causing people to lose their damn minds.
Someone, WE DON'T KNOW WHO, tweeted an alleged 4:44 lyric that says, "My wife a queen not a Kardashian."
Hm, looks like a rap lyric. Sounds like a rap lyric. Makes sense as a rap lyric, given that one time Kardashian's husband, Kanye West, went on a massive rant about JAY-Z and his wife Beyoncé...
Twitter jumped all over it like it was the last slice of a cheesecake in a post-apocalyptic world. (What, you guys never think about what a nightmare that would be?)
Anyway...
Alright, alright, alright. Everyone calm down.
The lyric is a fake rumor someone started because they are sad, and lonely, and want to watch the world burn.
Luckily, for every fraud trying to slander JAY's name, there are a million fans backing him up. Fortunately, it didn't take Twitter long to figure out the lyric doesn't actually exist anywhere on the album.
If people are looking for some juicy gossip, why not refer to the lyrics JAY raps about "Becky with the good hair," or an alleged threesome he had while married to Beyoncé, or that fight in the elevator with Solange?
JAY even rapped the following lyrics regarding his infidelity:
And if my children knew / I don't even know what I would do / If they ain't look at me the same / I would probably die with all the shame / 'You did what with who?' / What good is a ménage à trois when you have a soulmate? / 'You risked that for Blue?'
Sounds like he has bigger things on his mind than dragging Kim K.
Catch all the real lyrics and entire album on Tidal.