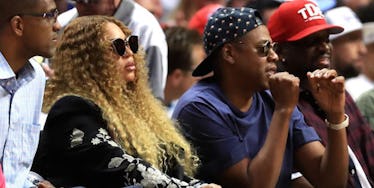 We May Actually Know Beyoncé And JAY-Z's Twins' Names, And We're Freaking Out
Sean M. Haffey/Getty Images
YOU GUYS, POUND THE ALARM. POUND THE GODDAMN ALARM!!!!!
Apparently, we're a little more sure of what Beyoncé and JAY-Z actually named their twins. CAN YOU HANDLE THIS?
According to TMZ, Bey and JAY have reportedly named their twins Rumi and Sir Carter.
BRB, YOU GUYS. GOING TO GET THOSE NAMES TATTOOED ON MY FOREHEAD.
Elite Daily has reached out to reps for Beyoncé and JAY-Z but did not hear back at time of publication.
While previous rumors threw around different names, the names Rumi and Carter seem a little more likely, as Beyoncé and JAY's company — the one that deals with trademarks for their names — made moves to file for the rights to Rumi and Carter, TMZ reports.
The trademarks filed are reportedly for a number of baby-related things, like teething rings, tote bags, rattles, and strollers, and a number of other things like fragrances, cosmetics, and water bottles.
YOU GUYS, I'M HYPERVENTILATING RIGHT NOW. Only Beyoncé and JAY could name a child Sir Carter and still have us all groveling at their feet.
Back on June 17, 2017, news broke that Beyoncé had given birth to these little bundles of royalty sometime that week, and obviously, that sent the world into a frenzy.
Shortly after, "a source at the hospital" told The Hollywood Gossip that Bey and JAY had actually named their twins Bea (pronounced "Bee") and Sean (a different spelling of JAY-Z's actual name).
All I have to say about that is... well... thank God those rumors turned out to be false. (Sorry, Bey, I love you.)
Today has also been a pretty big day for Beyoncé and JAY-Z fans everywhere, as JAY-Z also dropped his latest album 4:44 earlier this morning. Many fans are viewing the album as a response to Bey's literal masterpiece Lemonade.
CAN THESE TWO LET US LIVE FOR JUST ONE SECOND? (Actually, don't let me live. You guys just keep doing you.)
Also, is it just me, or did Beyoncé and JAY know exactly what they were doing when it came to these name choices? Honestly, tell me more royal-sounding names for these two twin Geminis than RUMI AND SIR. I'll wait.
Royal-sounding names for a truly royal family running a truly royal empire. It's only a matter of time before these infant wonders grow up alongside their sister Blue Ivy and continue the reign of Queen Bey and JAY-Z.
SHUT UP. I'M NOT CRYING, YOU ARE.