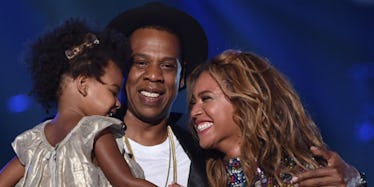 JAY-Z's Fans Can't Stop Talking About This One Line Off His New '4:44' Album
John Shearer/Getty
JAY-Z's new album, 4:44, dropped today, and it's not all about Beyoncé drama!
Well, OK, yes, a lot of it is about Beyoncé drama. There are several references to the allegations brought up in Beyoncé's Lemonade that JAY cheated, and it seems like JAY has learned his lesson.
One line that has fans talking on Twitter is a reference to JAY's children – Blue and the newborn twins.
If you haven't been bullied into getting Tidal yet, you might not have had a chance to listen, so allow me to help you out.
In the album's titular song, "4:44," JAY raps,
Took for these natural twins to believe in miracles.
Later in the songs, he raps,
And if my children knew, I don't even know what I would do / If they ain't look at me the same / I would prob'ly die with all the shame / You did what with who?" / What good is a ménage à trois when you have a soulmate? / You risked that for Blue?
By the way, if you're curious about the name of the song and the album, JAY-Z explains he wrote these lyrics at 4:44 in the morning in his annotations for the track list.
Considering Bey gave birth just one month ago, JAY probably wrote these lyrics before actually meeting his twins.
(And we still don't have confirmation on those twins' names, but rumor has it they're called Sean and Bea.)
Still, it's an interesting lyric in more ways than one, and it's one that stood out to fans on Twitter.
Most notably, it appears JAY might be claiming the twins were conceived naturally, rather than by in vitro fertilization, as many fans had assumed was the case.
(There were rumors that Beyoncé had trouble conceiving, and according to a recent New York Times report, 40 percent of all IVF deliveries in the United States are of twins.)
It's an interesting insight, but JAY, you're still not giving the people what they want.
Just give us some dang baby pics already!