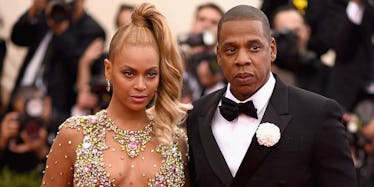 We Might Know Beyonce And JAY-Z's Twins' Names, According To This Rumor
Getty Images
THE TWINS. THEY'RE HERE. THE NAMES. WE MIGHT HAVE THEM.
THERE ARE THINGS WE DIDN'T KNOW BEFORE, BUT NOW WE KNOW THEM. ISN'T KNOWING THINGS GREAT?
Beyoncé reportedly gave birth to the twins on June 12. The world collectively sobbed, and their tears cleansed the Earth. We are now pure.
And after what's felt like eons of waiting, Beyoncé and JAY-Z might have finally revealed the names of Blue Ivy's little brother and sister.
Right now, there are just rumors circulating, but according to The Hollywood Gossip, a source at the hospital says the twins are named Sean and Bea (pronounced "Bee").
While The Hollywood Gossip reports the spelling is Sean, other outlets are reporting Shawn. JAY-Z's real name is actually Shawn Carter, so I'm thinking perhaps the latter is correct.
As I painstakingly mentioned, these are just rumors. Elite Daily reached out to both Beyoncé and JAY-Z's teams for confirmation of the names, but did not hear back at time of publication.
BEYONCÉ AND JAY-Z NAMED THEIR BABIES AFTER THEMSELVES (allegedly).
BEYONCÉ NAMED HER SECOND DAUGHTER BEYONCÉ JUNIOR, BASICALLY (allegedly).
THIS IS THE MOST BEYONCÉ THING THAT HAS EVER (ALLEGEDLY) HAPPENED.
BEYONCÉ, PLEASE CONFIRM OR DENY THIS SO I CAN F*CKING STOP SAYING ALLEGEDLY.
Ever since reports of the twins' arrival started circulating the week of June 12, Twitter has been coming up with some amazingly spectacular name options for the Carter babies.
But Beyoncé obviously didn't choose any of them, because we are mere plebeians who don't have the vision, the artistry, or the range Beyoncé has.
According to reports, Queen Bey and the babies had to stay in the hospital a little longer than planned because the twins were reportedly born prematurely and had jaundice as a result. But jaundice in premature newborns is very common and has a simple treatment process, so there's no need to worry.
Ugh, GOD, I'M F*CKING CRYING WHILE WRITING THIS. MY KEYBOARD IS BASICALLY LAKE ERIE. The last nine months have been a wild ride for me, fam.
You see, I found out my older sister was pregnant with her first child literally one week to the day before Beyoncé announced she was pregnant with twins, so I have literally not been emotionally OK for one day since.
Congratulations, my queen. Your babies are as perfect as everyone expected. Long live the new prince and princess of the universe and the first in line to your throne, Blue Ivy Carter, the real B.I.C.
Can't wait for the day when Blue and her siblings take control of the Illuminati, as is their birthright.