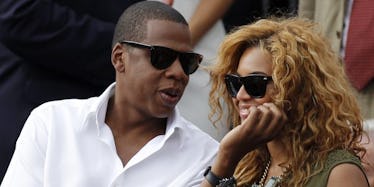 Beyoncé And Jay Z Had Trouble Conceiving, So The Twins Are 'A Miracle'
REUTERS
As you may have heard, if you go online or talk to people ever, Beyoncé is pregnant with twins.
(You almost definitely have heard. She announced on Instagram on Wednesday, and by the next day it was already the most liked Instagram post in the world.)
There was a message from Bey and Jay Z on the post, which read,
We would like to share our love and happiness. We have been blessed two times over. We are incredibly grateful that our family will be growing by two, and we thank you for your well wishes. - The Carters
Obviously, this is amazing news, especially considering it's apparently been a bumpy road to pregnancy for Bey and Jay.
According to a report from E! News, an insider shared the 35-year-old singer had difficultly conceiving this time around.
The insider said,
[Beyoncé and Jay Z] have been trying for some time. And it has not been very easy conceiving this time around, so when they did it was a miracle. They always wanted more kids, and they are doing really well as a couple so the timing is on point.
If you're a longtime BeyHive member, you probably know Beyoncé miscarried her first pregnancy. She first opened up about the painful experience in the 2013 BBC One documentary, "Life is But a Dream."
Later, in an interview with Oprah, Beyoncé explained the miscarriage was the reason she kept her pregnancy with her first daughter, Blue Ivy, a secret for so long.
For that reason, many speculated Blue was conceived through in vitro fertilization, as Chrissy Teigen did for her daughter, Luna.
On top of that, twins are common with IVF because doctors often fertilize multiple embryos to increase the odds of a successful pregnancy. In fact, according to a recent New York Times report, 40 percent of all IVF deliveries in the United States are of twins .
So perhaps these twins have less to do with spiritual miracles and more to do with scientific miracles.
It seems unlikely Beyoncé will ever address these rumors — which is her prerogative, after all.
Either way, soon there will be two new people in the world with the genes of Beyoncé, and that sounds like a miracle to me!
Citations: Beyoncé & Jay Z ''Doing Really Well'' as a Couple as They Prepare to Welcome Twins: Get the Relationship & Pregnancy Scoop! (E! News)