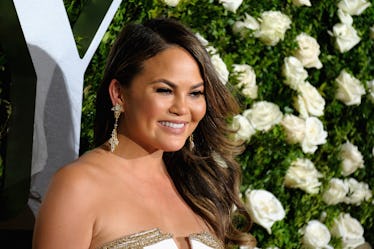 We Finally Know The New BECCA Cosmetics x Chrissy Teigen Products & It's About To Glow Down
Jemal Countess/Getty Images Entertainment/Getty Images
If there's one brand that has made it their mission as of late to give everyone glowy, airbrushed-looking skin, my vote goes to BECCA Cosmetics. And if there's one celeb I consider the goddess of glow, the saint of shimmer, the queen of gleam, it's none other than the always-radiant Chrissy Teigen. As a result, I've had absolutely zero doubt in my mind that the new BECCA Cosmetics x Chrissy Teigen products would be total perfection, and now that they've finally been revealed, I am far from disappointed.
When BECCA Cosmetics first hinted on Instagram on June 18 that something glowing was about to drop, my immediate first hope was that it be a BECCA x Chrissy round two. The original BECCA x Chrissy Teigen Glow Face Palette ($46, beccacosmetics.com) was a best-seller, and it was only a matter of time before this dream team reunited. Recently, though, both the brand and Teigen have been hard at work on their own separate adventures. BECCA recently released their dreamy new Be A Light Palette ($46, beccacosmetics.com), and Teigen gave birth to her son Miles just a month ago. How the two have found time to bang out an incredible collaboration is beyond me, but I'm so thankful.
From what they've shared so far, the collab seems like a shimmery, summery dream. The new BECCA x Chrissy Teigen Glow Body Oil was the first product announced, and the sparkly oil is undoubtedly the brand's response to Fenty Beauty putting body makeup on the map for summer with their Body Lava. BECCA's version looks especially bronzy and glittery, and it's totally the kind of vibe I'd expect from someone like Teigen, who always looks kissed by the sun.
I wonder if she's been secretly rocking her new products for a while now. I had credited her flawless complexion to a pregnancy glow, but maybe it was a combo of that plus a slather of Glow Body Oil! BECCA took to Instagram with this macro shot of the oil's sparkle in motion, and I've been watching it ever since:
If you're already freaking out over the body oil, this is officially my chance at a "But wait! There's more!" Billy Mays moment. The new collection continues with more products as well, and the BECCA x Chrissy Teigen Endless Bronze & Glow is a guaranteed must-have.
The chrome compact features waves of bronzer, sun rays of rose gold, and a sky of golden highlight. I've seen a lot of pretty sunsets in my lifetime, but this one probably takes the cake. Tons of comments on BECCA's Instagram reveal include fans hoping that the pink shade is similar to "Beach Nectar" from Teigen's original palette. Swatches haven't been released yet, and the brand hasn't made any comment, but it does look similar, so I'll keep my fingers crossed.
To top it all off, BECCA and Teigen decided to bless not just our skin, but our also smiles, and announced that this time around, a lip product would be in the mix. I now present not one, not two, but three shades of the BECCA x Chrissy Teigen Glow Gloss.
Two of the shades, "Beach Nectar" and "Malibu Soleil," are named for pans in the original BECCA x Chrissy Teigen Glow Face Palette, while the third, "Beach Bum," is a totally new name. If we're about to coat our bodies and faces with this collection all summer, it makes sense that our lips should get in on the action, and the Glow Glosses are a fun addition to round out the collection.
The BECCA x Chrissy Teigen Endless Summer Glow Collection will be available on the brand's website, Sephora, and Cult Beauty on June 28. With that in mind, I leave you with this adorable video of Teigen herself trying to smuggle this super-sized Glow Body Oil off set. Classic Chrissy.