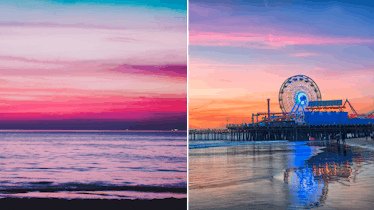 If You Want To See A Millennial Lilac Sunset, Add These Places To Your Bucket List
Once the end of the day rolls around, we all know to look to the horizon for a magical show: the sunset. There's no denying we've all be guilty of dropping what we're doing to snap a solid pic for the 'Gram. Believe me, I've been there more times than I can recall, and part of the reason why we're so captivated by sunsets is that dreamy purple hue. In fact, a sunset is the prime sight to get your fill of the millennial lilac color everyone's raving about. If you want to take the most gorgeous pics, you need to travel to the best places for millennial lilac sunsets.
Traveling, sunsets, and millennial lilac — what more could you want? This is actually the perfect chance to take advantage of your wanderlust for a good cause of stepping up your Instagram game. It's also a once in a lifetime opportunity to see something that only nature can show us, so if you're jumping on that lilac train, try heading to any of these nine spots. Don't forget your camera, a cozy blanket, and your favorite people, because you'll need someone else there to verify that what you're looking at doesn't even need a filter.