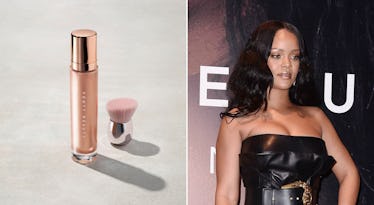 This Woman's Genius Fenty Beauty Body Lava Dupe Will Have You Glowing On A Budget
Fenty Beauty // Jacopo Raule/Getty Images Entertainment/Getty Images
We're all out here in 2018, and one woman is truly living her best life in 3018, my friends. I'll be the first to admit that when my favorite beauty brand drops a new product, I immediately wanna reach into my purse and yell, "Here, just take my money!" But then I remember I have bills to pay and groceries to buy, and I sulk for about five hours. However, Aleah Jackson's Fenty Beauty Body Lava dupe proves that not all is lost when your wallet can't handle another makeup purchase. All you need is some creativity.
On Wednesday, April 11, Jackson (@leaahluv on Twitter), a college student, took to Twitter to share a mini video tutorial showcasing how she made her very own Fenty Body Lava ($59, fentybeauty.com) dupe. Seriously, this method is so easy, you'll 1) be mad you didn't think of it first, and 2) praise Jackson for thinking of all the people on a budget out there.
According to Jackson's video, all you need is a small bottle of baby oil (which, contrary to some reports, is not bad for your skin) and your favorite powder highlighter. In her video, Jackson chose to use Jackie Aina X Artist Couture La Peach Highlighter ($28, artistcouture.com). If you use a loose powder highlighter, you can just tap a small amount straight into the baby oil container. If you use powder highlighter in a pan, just scrape a little bit out with a sharp edge and do the same. Once you add the two together, just shake up your bottle, and voila! You've got that whole-body glow on a budget.
As you'll see in the video below, Jackson's concoction actually mimicked Fenty's "Who Needs Clothes?!" Body Lava shade pretty closely.
As for why she decided to make this dupe, Jackson's reasoning is so, so relatable. "As a college student, I'm not always able to afford the things I want," she told Allure. "So in the spur of the moment, I made this very simple concoction for all ladies and men who are on a budget, like myself to shine!"
Shine, indeed. If you peep Jackson's video at about 0:26, you'll truly be blinded by the shine her skin is giving off. All this glow for half the price of a Body Lava tube? Utter genius.
Perhaps because so many of us are obsessed with all things Fenty Beauty and perhaps because so many of us are trying to make $30 last for a week, Jackson's dupe has racked up almost 5 million views, more than 66,000 retweets, and more than 236,000 likes on Twitter. Makeup artist and YouTube star Jackie Aina herself even saw Jackson's video and tweeted, "OH YES HONEY ALL SUMMER 18."
Another Twitter user (@sunkissedmamii) shared her take on Jackson's dupe, using highlighter shades from Anastasia Beverly Hills and MAC to create a collection of even more colorful body shimmers.
Despite Jackson's clever workaround, Fenty's Body Lava still hasn't seen a dip in popularity. Fenty followers freaked out the moment Rihanna took to the brand's social media to announce the launch of the new Body Lavas, "Who Needs Clothes?!" and "Brown Sugar," on April 6, and currently, "Brown Sugar" is still out of stock, according to the brand's website.
In addition to the Body Lavas, Fenty also released "Fairy Bomb," a big pom pom applicator filled with rose gold shimmer in powder form. Clearly, people (read: definitely me) are itching for a "dewy glitter goddess of the sun" look, and both Fenty Beauty and clever beauty connoisseurs on a budget are happy to oblige.
As the weather gets warmer and we're no longer wrapped up in 15 layers, get your skin ready to shine, no matter what kind of budget you're on. Round up your baby oil and your all-time favorite highlighters, fam. We've all got some glowing to do now.