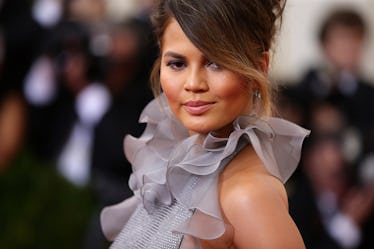 Chrissy Teigen's New Pic Of Baby Miles Is So Out Of This World Adorable, Even NASA Noticed
Neilson Barnard/Getty Images Entertainment/Getty Images
Everyone knows that John Legend and Chrissy Teigen make the most adorable little kids. There's Luna Simone, aged 2, who has been stealing hearts since April 2016. And now there's Miles Theodore, who is only 1 month old, but stealing hearts all the same. And let me tell you, their proud mama is not afraid to show her kids off. Actually, Chrissy Teigen's photo of Miles with a NASA cap on got some serious traction on social media. The adorable photo was so noteworthy, in fact, that NASA itself had to stop and comment on it.
Teigen posted the unbearably cute photo to her Instagram on Tuesday, June 19, and almost immediately, people were flocking to the comments to say how adorable Miles was.
In the photo, baby Miles — who was born on May 16 — is sporting a white hat with a NASA logo on it as well as a blue onesie. Although Miles appears to be sleeping in the photo, he looks awesome in his galaxy-inspired outfit. The photo was so "out-of-this-world" adorable that NASA simply couldn't resist commenting on the photo. Here's what they had to say:
We're digging your little one's hat and think he looks out-of-this-world! It's fitting that he's wearing blue because throughout the universe, newborn stars glow the same color.
So cute! And I love how they included some educational information as well!
And here's the photo of Miles in his NASA getup:
Luna was also sporting some NASA apparel. In a video posted to Twitter, you can see Luna trying her very best to pull on a space suit, but Teigen says things got a little tricky:
I thought I was going to have this incredible female empowerment moment where Luna ripped her tutu off and replaced it with her space suit but sometimes a girl wants to be both
Yep, girls can definitely be both and it's so great that Teigen lets Luna be comfortable in whatever she wants to wear. Sometimes you just have to be everything all at once — a ballerina and an astronaut.
Here's the adorable video of Luna and the impossible space suit:
Since Teigen posted the photo of Miles, nearly a million people have liked it and over 3,000 people have commented. Meanwhile, Luna's space suit video got a whopping 1.4 million views and nearly 90,000 likes. So, the fans love these kids as much as they love Teigen.
But those aren't the only fan favorites on Teigen's social media accounts. She's got loads more of her kids and those photos, too, give the fans something to coo over.
Like this one she posted on Wednesday, June 20, of Luna with a stuffed Arthur Read:
"Luna and daddy," Teigen wrote in the photo's caption. Too funny!
Teigen shared this sweet photo of her hubby with Miles on Sunday, June 17:
Legend is all smiles in the photo as he brunches with his family for Father's Day. Gotta love it!
The proud mom also posted this snap of Luna and her dad on the same day:
Along with this photo, Teigen included a really sweet caption in honor of the special day:
What a man, what a man, what a mighty good man. Thank you for the beautiful life and these beautiful lives you have given me. My best friend and partner always, the most loving and generous and kind human in the world. And the smartest. I didn't say funniest so you know I'm not lying here. We love you with all our hearts. Happy Father's Day
Aw, so sweet! I love them together. They have such a cute family!