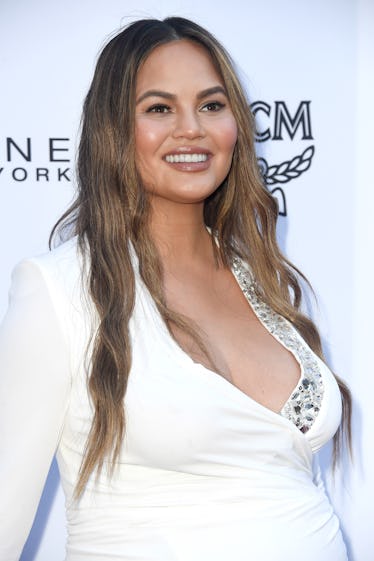 Chrissy Teigen & Becca Cosmetics Teased A New Collab & OMG, It Looks Glittery AF
Frazer Harrison/Getty Images Entertainment/Getty Images
Even amid all the different kinds of highlighters and body glitters out there, Becca Cosmetics' new collab with Chrissy Teigen has the beauty world buzzing. Even though there have been a few hints, there's still no official announcement on what products the pair will be launching. But what we do know right now is that, if you're a fan of glitter, you should start getting your coins in order, 'cause this launch looks like it's going to be really, really good.
Teigen usually doesn't keep anything from her followers, so the suspense is a lot. On her recent Instagram Story, however, she gave us a little sneak peek at what's in store. With bare, bronzed arms, a perfect manicure (of course), and two blurred-out photos of new products, the model ended her story with a still that read, "Oops! John might be the only one to see my nudes but I have something even better coming your way... Follow @BeccaCosmetics to be the first to know the deets!"
Interesting.
From what I can gather, it does seem like the mother-of-two is launching some type of body highlighting product with Becca. The bare arms and shoulders, the shimmering skin, the mention of her husband and nudes, and also promising fans something "even better"? Hmm, what exactly could it be?
If my suspicions of the new product(s) including some type of body shimmer are right, then this definitely doesn't come as a surprise. Body makeup has become super popular among mainstream brands this year. And when Fenty Beauty's Body Lava sold out almost instantly, it was clear that basically everyone was looking for some summer glow in a bottle. Beauty junkies even created BDIY Body Lava tutorials that were both easy to make and budget friendly to ease the heartbreak and pain of those who missed out on the limited edition Fenty product.
Affordable brand CYO gave us another cost-effective solution, offering its Bronzing Shimmer Oil Gift Of Gold for only $7, which is currently on sale for only $5.95. And with a 4-star review, you surely can't go wrong there. Huda Beauty also teased what seems to be a similar product in early May. However, there's no word on that yet, either. What we do know is that Ms. Kattan will be releasing concealers and setting powers very soon.
But as far as Teigen's Becca collab goes, not even beauty insider account Trendmood knows for sure what's brewing. But Becca Cosmetics' Instagram account did give us another clue. Posting a brief video of what seems to be some liquid glitter, the brand shared that a new product will be launching shortly.
Many users following the retailer tagged Teigen in their replies, asking if this had anything to do with her, while others exclaimed that they couldn't wait to get their hands on some.
This isn't Teigen's first time working with the cult beauty favorite. Last year, the two collaborated to create the Becca x Chrissy Teigen Glow Face Palette ($46, beccacosmetics.com) which included two highlighters, blush, and bronzer to give the "ultimate endless summer glow." Each product included was super pigmented and blended with most skin tones. The highlighters came in "Rose Gold" and "Beach Nectar," while the bronzer came in "Malibu Soleil," and the blush came in "Hibiscus Bloom."
So, if like many of us, you're looking to glo-up (literally) this summer, then this may just be your year to stock up on all the body highlighters you can get your hands on! If you're worried about sun damage, always remember to apply sunscreen and let it set before you lather on your body highlighter. And because beauty lovers always want the best of both worlds, there's glittery sunscreen available, too (no, I'm not joking), so you can shimmer and protect your skin all at once!