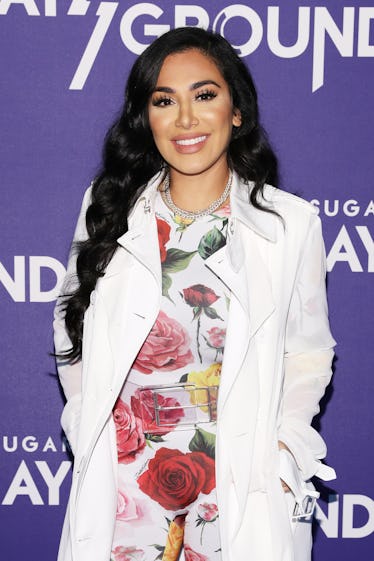 Huda Kattan Hinted That Huda Beauty Concealers May Be On The Way & Fans Are Going Nuts
Cindy Ord/Getty Images Entertainment/Getty Images
Rumor has it that beauty entrepreneur Huda Kattan is about to release two new products for her Huda Beauty line, so let's all collectively get our coins in order, because we're ready for her to take our money. In a series of Instagram photos the businesswoman posted on Monday, June 11, Kattan gave her followers a bit of a tease as to what's in store, and even joked that they were releasing towels (which I highly doubt, but anything's possible in 2018).
On Friday, June 8, Allure reported that it seems as though Kattan would be releasing Huda Beauty concealers — something that's definitely been missing from the brand's lineup. The publication also mentioned that, while the brand was launched in 2013, it wasn't until last October that its #FauxFilter Foundation was eventually released. So concealers would definitely make sense as a next step for the line.
Turns out the beauty experts were right. Kattan low-key revealed that brand new products were forthcoming in a trailer for her new Facebook Watch series, Huda Boss, which premieres Today, June 12, at 9 p.m ET/6 p.m. PT, as per her most recent Instagram story. And if you listen closely, you'll hear her talking about the concealers.
"We've been working so hard on this concealer," she says in the one minute teaser. "It's super high quality, super luxurious." While it's unknown when the concealers are launching, exactly, Kattan herself confirmed in an Instagram post that one of the new products is launching very soon.
While some of us looking from the outside in may think Huda Beauty's late to the game when it comes to its complexion makeup, Kattan makes clear in the show's trailer that she wasn't interested in releasing a new product until it was absolutely perfect. Even though she doesn't mention what exactly she was testing at the time, she does share with her staff that something she tried on made her turn orange. So I guess whatever it was, was definitely a no-go. Yikes.
I can't say I blame her. Not only is it just best to hold yourself to a high standard in business, but in this day and age, it's definitely better to be safe than sorry. Many beauty lovers are serious about inclusion and product quality, so much so, that it's finally just become the standard. One wrong move can send even the most respected brands into a roaring social media whirlwind.
Still, I'm curious to know more about the new, mysterious second product that has everyone thrown for a loop. So far, the Dubai-based boss has stayed mum on the details, but beauty insider Trendmood's social media account suspects it may be a setting powder. Of course, we'll have to wait and see.
Products aside, I must say I'm super excited to tune into Huda Boss. Giving an exclusive preview to Us, the makeup mogul shared that the show definitely doesn't hold back when it comes to showing Kattan's ups and downs — which is refreshing, because it's real. And seeing as it's so easy to get lost in today's Instagram facade of what appears to be everyone living super glamorous lives, sometimes, we all need that reminder.
Now, don't get me wrong, Kattan definitely seems to lead a wonderful life. She's in her 30s and thriving as the CEO of her own hugely successful company, has a wonderful family, and lives in beautiful Dubai. But what people don't see is everything that goes on behind the scenes.
Us reports that the 10-episode docu-series will touch on everything from what it's like to run a business with family, to the pressures of fame (it's not all selfies and unboxing), the anxiety that comes with running an enormous company, and Kattan's fears that her new products may fail.
So strap-in, beauty lovers, because Huda's the boss, and she's definitely going to be taking us for a wild ride.