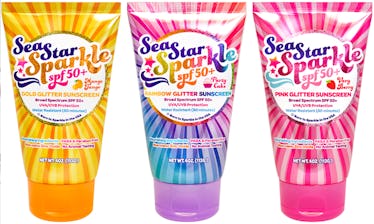 Glitter Sunscreen Is Here, So You Can Be Sun Smart & Extra At The Same Time
Sunshine & Glitter
Sunscreen is one of those things that you use mostly because you know you have to, but it doesn't necessarily mean you like wearing it. Well now, there's a formula that protects your skin from harmful UV rays and helps you get your shine on. Where to buy glitter sunscreen, you ask? It's actually super easy, and if this doesn't convince you to slather on the SPF, literally nothing will.
In fact, the brand behind the shiny SPF is also responsible for producing glitter-infused body lotion, lip balm, after-sun lotion, and even insect repellent (and no, it doesn't just blind bugs) — basically everything you need if you're planning a glamping trip this summer.
Sunshine & Glitter is the shimmery skincare brand out of — where else? — Miami, Florida, that turns every part of your beauty routine into a glitter bomb. With the temperature beginning to rise and Coachella on the horizon, I literally can't think of a better time to load up on some shiny skincare products that will protect my skin. Scroll down for all the twinkle-infused beauty buys this super-extra skincare brand has to offer.
In case you're thinking this shiny sunscreen is just an excuse to use your KiraKira app, it's actually a legit product to protect you from the sun. Loaded with antioxidants, this broad spectrum UVA/UVB sunscreen not only boasts SPF 50, it's water resistant and provides 80 minutes of wear. It's also available in three different, yum-tastic scents: Mango Tango, Party Cake, and Very Berry, each with a corresponding glitter hue.
Seastar Sparkle SPF50+ Mango Tango With Gold Glitter ($19; sunshineglitter.com)
Seastar Sparkle SPF50+ Party Cake With Rainbow Glitter ($19; sunshineglitter.com)
Seastar Sparkle SPF50+ Very Berry With Pink Glitter ($19; sunshineglitter.com)
Two of the above scents (Party Cake and Very Berry) even come in individual packets for sparkly protection on the go.
10 Seastar Sparkle SPF 50+ Travel Packets/Mixed Set - Party Cake & Very Berry ($14; sunshineglitter.com)
If you're interested in the sparkle and the sun protection, but the above feel a little too underground dance party for you, the below sunscreen gives you more of a golden glow than a full-on glitter bomb. Similar to the Seastar Sparkle sunscreens, the Beach Gypsie Glitter Sunscreen provides UVA/UVB protection and 80 minutes of water resistance with SPF 30, which is totally acceptable for day-to-day wear.
Beach Gypsy SPF 30+ With Gold Glitter ($25; sunshineglitter.com)
If you're all set in the sunscreen department, but you're still looking to add some glitter into your summer skincare routine, after-sun lotion might be where it's at for you. Both of the below lotions are packed with nourishing aloe and lidocaine, which cools and soothes sunburned skin.
Totally Fun After Sun Lotion ($13; sunshineglitter.com)
Day Is Done After Sun Lotion ($17; sunshineglitter.com)
And now, my personal favorite, the Swiss army knife of skincare, this all-natural SPF 50 broad spectrum sunscreen is not only packed with glitter, but also all-natural bug repellant. Packed with zinc, cedar, citronella, lemongrass and peppermint oil, this all-in-one lotion is even formulated without parabens or oxybenzone. Basically, this is the most fabulous item you can pack for a weekend in the woods or a day lounging poolside.
Glamour Camper SPF 50+ All Natural Sunscreen With All Natural Bug Repelent And Glitter ($19, sunshineglitter.com)
Gather your girls, slather on the glitter-infused skincare, and book a weekend laying out by a pool or becoming one with nature on a daytime hike. Your skin will sparkle in sun and you won't have to worry about damaging UV rays or annoying insect bites. It's a win-win.