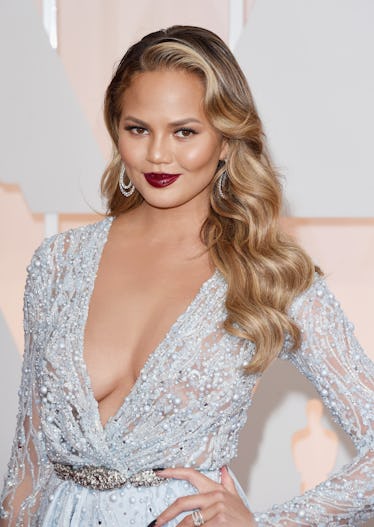 Chrissy Teigen Got Real AF About What Breastfeeding Is Really Like In This Instagram Video
Jason Merritt/Getty Images
I love the way Chrissy Teigen always keeps it real — especially when it comes to all the mom stuff. You know like stretch marks, postpartum butthole tears, and those big ol' pairs of mesh panties they give you when you leave the hospital after giving birth. Now, the outspoken model mama is at it again. Only this time, she's giving us the inside scoop on some pretty strange stuff that can happen to your body when you nurse. Or, specifically, to your breast area. This video of Chrissy Teigen's boobs during breastfeeding show it has weird side effects, you guys, and I seriously don't know how to feel about it!
The Lip Sync Battle star hit up both Twitter and her Instagram story on June 9 to send out a cry for help to all her fans. See, Teigen is a little freaked out about the way nursing her new son, Miles, has totally changed the look of her décolletage. And TBH, I kind of don't blame her!
"Please look at my veins going to my milky boobs," she said in a video clip that showcased a web of prominent blue-ish veins on her chest. "What is this?"
I just love her honesty, don't you? Meanwhile, I think we can all agree she still looks absolutely stunning in the clip, vein-covered chest and all! And of course, her fans were only too happy to roll up and assure her that what she's experiencing is both temporary and totally normal.
"Just your body doing what it was meant to do," wrote one. "Sending love. You are beautiful."
"The veins of LIFE! #breastfeeding #momsupport #mommyproblems," added another.
"That's your mama power!!" explained a third. "Nurse on, girl!"
And from a fourth: "It's called wonderful, gorgeous life coursing through those veins. You are a goddess. Be proud of every inch of you."
Amen! Even the Twitter account for nursing advocacy group La Leche League showed up to weigh in. "That can be normal because the skin on your breasts is thinner due to milk-related growth," they wrote. "Do you feel engorged?"
Teigen never responded, but I'm gonna go ahead and guess probably not, since an hour before she posted her vein query, she announced on Twitter that she and husband John Legend had just split a bottle of wine and were thinking about going skateboarding.
And before you get all, "OMG she's drinking alcohol while she's BREASTFEEDING?!" you should know that La Leche has already weighed in on that topic too.
Anyway, it turns out the happy couple did not end up hitting the halfpipe, and instead decided to just stay home in bed.
And it seemed like Teigen was still there the next day, watching The Little Mermaid and pondering the intricacies of Ariel's vocabulary:
"How does Ariel know what 'reprimand' means but not 'feet,'" she wanted to know. Good freaking question! And the banter that ensued afterward is the gift I didn't even know I wanted. I don't think I could even begin to do it justice in recap form, so just read it for yourself:
TWEETER #1: "Because she's been reprimanded many times, but she's never had feet."
TWEETER #2: "Yes, but other animals have feet. Her bird friend has feet. Surely this would have come up."
TEIGEN: "THANK U"
TWEETER #3: "Also she sings that she's ready to stand. ON WHAT, ARIEL?!"
TWEETER #4: "Maybe she noticed her friends feet but didn't want to be rude and say anything about it."
TWEETER #5: "Yes, they may reprimand her."
BAHAHA. Way to bring it full circle, Jeffrey! Seriously, I hope Teigen stays home every day from now on, because her tweets are seriously giving me life right now and I never want them to end.