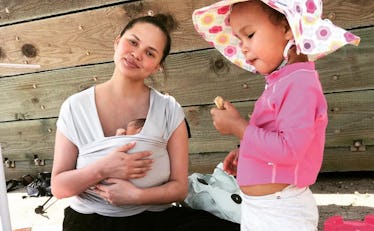 Chrissy Teigen Just Shared A Close-Up Pic Of Baby Miles On His Original Due Date
Instagram / Chrissy Teigen
Why won't Chrissy Teigen adopt me? I feel like I'd be a really, really, good kid. All I want is for her to feed me, swaddle me, and post cool things about me on her Instagram. I don't feel like that's too much to ask. Her new son, Miles, is getting the Chrissy Teigen and John Legend VIP-kid treatment and the new portrait of him on Teigen's Instagram is epic. The close-up photo of Miles Stephens is a treasure to behold and this little man doesn't even know he's famous and rich AF. Lucky.
According to Teigen's post, Miles came early. We all knew her due date was sometime this Spring and she initially told TV host Ellen DeGeneres he would be making his debut in June. Lies. The boy had other plans. Miles arrived three weeks early. Teigen announced his birth on May 17 just a few days before his dad had a big performance at the Billboard Music Awards. It was a big week for the family, indeed. Now, on his original due date, Teigen is sharing more sweet photos of her baby boy and filling us all in on how the first couple weeks have been. She captioned Miles' closeup:
Today was your original due date but you heard how cool we are since that's all we talk about (how cool we are) and you wanted to see what all the fuss was about, 3 weeks early. Well we tricked u! We are boring AF but we love you!
Would you please look at that little man just chilling? Chin resting on his hand. Hand resting on his mom's chest. Mom's chest resting on supermodel body. Supermodel body resting on what I assume is a really, really good couch. What a way to live.
This, we've come to learn, it Miles' signature move. When Teigen first shared a picture of her sweet boy's face he was in a very similar position with an equal amount of calm. Teigen captioned the photo with an informal, "Hello, world!" She wrote:
Hello, world! This is Miles Theodore Stephens - We are drowning in his little peeps and nuzzles. Our household feels overwhelmed with love. Thank you for all your well wishes!
I dig this kid's vibe already.
Legend revealed the meaning of both Miles' and daughter Luna's names on the Billboard Music Awards red carpet, and surprise, surprise, they're both named after music legends. (See what they did there?) According to the publication, the name Miles Theodore Stephens is in homage to his father (John Legend a.k.a. John Roger Stephens) and Miles Davis. Luna Simone Stephens is named after the great Nina Simone.
"We named our first daughter Luna Simone Stephens, and every name we give to our kids will have a little bit of musical history," Legend said. "So Miles, of course, is the same name as the great Miles Davis." As for his middle name, Theodore, Legend says that was all Chrissy. He explained, "Chrissy really likes the name Theodore so we put it all together and had Miles Theodore Stephens. When he came out and we hung out with him for a little while we were like, 'He looks like a Miles!'"
He also looks like a perfect baby.
Legend says he, Teigen, and baby Luna are all really excited to have a new addition to their family, claiming, "It's nice to have our little family of four now."
Ok, but what about a family of five? I'll sleep in a crib it's not a big deal. Adopt me.
Check out the entire Gen Why series and other videos on Facebook and the Bustle app across Apple TV, Roku, and Amazon Fire TV.