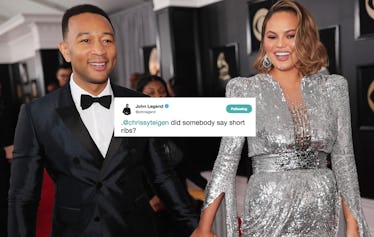 John Legend & Chrissy Teigen Had The Funniest Twitter Exchange At The BBMAs & I'm LOLing
Christopher Polk/Getty Images Entertainment/Getty Images/Twitter
The 2018 Billboard Music Awards went down on Sunday, May 20, and even though she wasn't there, the real star of the show was Chrissy Teigen. Unsurprisingly, Teigen's tweets were on point during the show. And given the fact that John Legend was at the show performing his single "Good Night," she had extra content to troll and we all know she's the best at trolling her own husband. John Legend and Chrissy Teigen's tweets during the Billboard Music Awards were classic John and Chrissy tweets. And baby Miles was involved!
In case you missed it (how do you not have notifications set for when Chrissy Teigen posts on Instagram yet?!), Chrissy Teigen debuted her and John Legend's son on Sunday, May 20. She posted a sweet photo of the baby boy and revealed that his name is Miles Theodore Stephens. Her caption for the photo read, "Hello, world! This is Miles Theodore Stephens - We are drowning in his little peeps and nuzzles. Our household feels overwhelmed with love. Thank you for all your well wishes!" Teigen stayed home with baby Miles and Luna while Legend performed at the BBMAs, and her tweets at him during the show were hilarious.
She started off by trolling Legend for not being home to take care of his newborn. You know, the same criticism women get if they, like, go outside once after having a baby.
All in good fun, she said, "wow didn't u just have a baby John smh go take care of it !!!!!! disgusting." You can see Miles' tiny feet in the photo and it's adorable.
Then during Legend's performance, she tweeted him a reminder to be home in time for dinner.
She tweeted a video that panned from her kitchen to her TV that showed Legend performing "Good Night" at the BBMAs and said, "hello it's shortrib night be home by 9." She didn't even tag him in it. We knew who she meant. More importantly, Legend knew who she meant.
Teigen then posted a hilarious video of Luna's apparent reaction to Legend's tribute to her little brother at the BBMAs.
At the end of his performance, the first photo of Miles was put up on the big screen and Legend looked so happy. Luna? Not so much. Teigen posted a video of Luna watching the tribute to Miles and said, "she is uhhhh not thrilled with this tribute @BBMAS." As an older sister, I feel this video right at my core. LUNA, I FEEL YOU, GIRL.
After his performance, Legend dipped out of the BBMAs right away so he could get back home in time for dinner. He tweeted a video of him reacting to Teigen's tweet about short ribs and it was everything.
He said, "I'm already at the airport. I'll be home for dinner by 8."
His caption on the tweet read, ".@chrissyteigen did somebody say short ribs?" Ugh, these two.
Not one to leave the fans hanging, Legend posted a video of the short ribs and it honestly looks like the best meal of all time. Just look at that food. Sweet jesus.
Teigen quoted his tweet and just posted a smiley face emoji, and all was right with the world once more.
After their dinner, Teigen posted the realest photo on the planet that was also a tribute to Ali Wong's new Netflix special, Hard Knock Wife.
The photo showed Teigen holding Miles (who was covered with a blanket) in one arm and a pear wrapped in some kind of fancy white netting in her other hand. Wong jokes about this fancy pear netting in Hard Knock Wife when she talks about the fact that new moms basically have to wear the same thing as underwear after they give birth, and Teigen is wearing said underwear in the photo.
Teigen, clearly a huge fan of Wong (same), posted the photo with the caption, "If you haven't seen @aliwong's new Netflix special, you are bad at picking Netflix specials #asianpearunderwear." She's not wrong. Honestly, I can say with confidence that the only thing funnier than Chrissy Teigen's tweets is Ali Wong's Netflix specials.
Outside of all of this, can we please talk about Luna's face in this photo? She is giving some of the best side eye I have ever seen in my 24 years. That kid is already a... Legend. I'll see myself out.