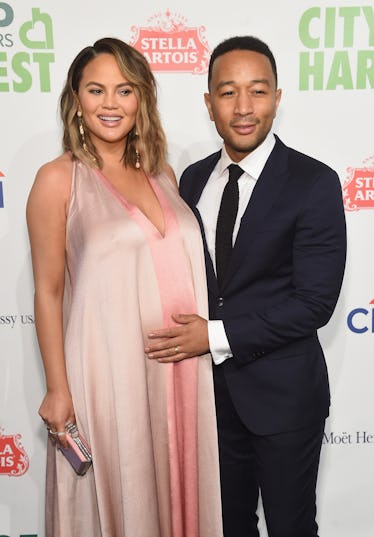 The First Photo Of Chrissy Teigen's Son Is Here & He's Cuter Than You Could Even Imagine
Jamie McCarthy/Getty Images Entertainment/Getty Images
Chrissy Teigen and John Legend's baby boy has arrived! Teigen announced in a tweet early in the morning on Thursday, May 17, that she had given birth to her son. On May 20, Teigen and Legend revealed what their baby boy looks like and the first photo of Chrissy Teigen's son is the cutest thing you'll see today. Teigen's tweet announcing the arrival of the baby came around 1:30 a.m. EST on May 17. The tweet was short and sweet, saying, "Somebody's herrrrrrre!" She didn't reveal the name she and Legend chose in the tweet, but the Instagram of the baby did reveal his name: Miles Theodore Stephens. Loveeee.
The first photo of their baby boy was really similar to the first photo they posted of baby Luna when she was born in April of 2016. Luna Stephens was born on April 14, 2016, and they announced her birth on April 17, 2016. When they announced Luna's birth, they posted a photo of her birth information from their room in the hospital where Teigen gave birth with a caption that said, "She's here! Luna Simone Stephens, we are so in love with you! And sleepy. Very sleepy." A few days later on April 19, Teigen posted the first photo of baby Luna to her Instagram and the caption read, "hi my lulu!"
Teigen's first photo of her son is pretty similar in the sense that 1) it's adorable as hell, 2) it's a sweet shot of Teigen holding the baby and staring at his cute little face, and 3) she posted it on Instagram first.
Here he is!
How cute?! The caption for the post read,
Hello, world! This is Miles Theodore Stephens - We are drowning in his little peeps and nuzzles. Our household feels overwhelmed with love. Thank you for all your well wishes!
Swooooon.
Teigen announced her and John Legend's son had arrived in a tweet on May 17.
Fans were so excited for the queen of Twitter.
The last thing Teigen posted on Instagram before officially becoming a mom of two was a sweet photo of her and Luna taking a bath.
The caption said, "a splash with toons." She posted the photo on May 16 and seemingly went into labor just hours later!
Before baby Miles was born, Teigen told Ellen DeGeneres that she and Legend were having the hardest time figuring out what to name him.
"Boy names are really tough," she said. "I don't even think he'll have a middle name because we can't even think of a first name." When DeGeneres asked how they came up with the name Luna, Teigen said the inspiration came from a precious childhood memory of hers. "There was a blood moon happening. It was a very beautiful night — really big, vivid red moon, just gorgeous," she said. "I have this love for space, and I think about space camp all the time, and my days at space camp as a youngster, and so I just thought Luna was perfect, and she's a perfect Luna."
Teigen also said in her interview with DeGeneres that the baby was due in June, so the little guy came a little early! She also joked that they were thinking of naming him Dick Legend... so thankfully that's not what they went with in the end. I like Miles Stephens much better. John Legend hasn't tweeted or posted anything on Instagram about his son just yet, but he did retweet Teigen's tweet announcing the birth.
In March of 2017, Teigen wrote an essay for Glamour that detailed her struggles with postpartum depression. She talked about her concerns about postpartum with her second baby at the Create & Cultivate conference on Feb. 24.
She said,
Do I worry about it with this little boy? I do. But I also know that I feel like when it does happen, if it does, I'm so ready for it. I have the perfect people around me for it. That's why I really stand for a good core group of people around you.
Congratulations, Chrissy, John, and Luna!