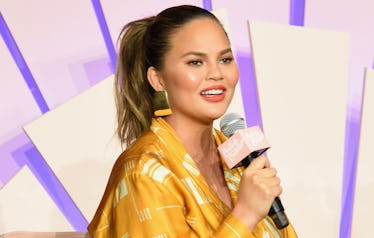 Chrissy Teigen Got Real About The Huge Worry She Has In Having Her Second Baby
Chrissy Teigen is pregnant with her second child (a baby boy due this June), and just like after her first pregnancy with baby Luna, she's opening up about her experience with postpartum depression. While speaking at the Create & Cultivate conference on Saturday, Feb. 24, the Twitter queen opened up about her worries about postpartum depression following the upcoming birth of her son. Chrissy Teigen's postpartum depression with baby Luna is naturally making her concerned about going through it again after her son is born, but she made it clear she feels much more equipped for it this time around, mostly because she knows exactly what it is now. After she gave birth to Luna, she says, she didn't know that what she was experiencing was postpartum depression, and that was half the battle.
The Create & Cultivate conference, according to its website, is "a movement for women looking to create & cultivate the career of their dreams." Past speakers at the conference include Issa Rae, Meghan Markle, Mandy Moore, Gloria Steinem, and more. Chrissy Teigen and Kim Kardashian both spoke at the conference this past Saturday, Feb. 24., in L.A. It was during her time on the Create & Cultivate stage that Teigen opened up about her fears of postpartum depression. "Do I worry about it with this little boy? I do," she said, adding, "But I also know that I feel like when it does happen, if it does, I'm so ready for it. I have the perfect people around me for it. That's why I really stand for a good core group of people around you."
She further explained that she didn't realize the feelings she was experiencing after giving birth to Luna were part of postpartum. She just thought that's what it felt like after giving birth. She said,
I didn't know I had it. I knew that I had an incredible life, and an incredible husband, and family, and all the resources necessary, and I knew that I was personally unhappy, but I didn't think anything was wrong with it because I just assumed that that's the way it was. You have a kid, you're sad, you lose those endorphins, and that's the way it is.
She later learned that 1) postpartum depression is very common among women who just gave birth (1 in 9 women have it after giving birth, according to the Centers for Disease Control and Prevention), and 2) it's completely treatable. But you have to know what it is before you can start to heal from it.
Teigen went into great detail of her struggles with postpartum depression in an essay she wrote for Glamour in March of 2017. "After I had Luna, our home was under construction," she detailed in the essay, "so we lived in a rental home, then a hotel, and I blamed whatever stress or detachment or sadness I was feeling at that time on the fact that there were so many odd circumstances. I remember thinking: 'Maybe I'll feel better when we have a home.'" She went back to work on Lip Sync Battle when Luna was four months old. When it came to going back to work, she said,
Getting out of bed to get to set on time was painful. My lower back throbbed; my ­shoulders — even my wrists — hurt. I didn't have an appetite. I would go two days without a bite of food and you know how big of a deal food is for me. [But the] one thing that really got me was just how short I was with people. I would be in my dressing room, sitting in a robe, getting hair and makeup done, and a crew member would knock on the door and ask: 'Chrissy, do you know the lyrics to this song?' And I would lose it.
The most heartbreaking part of the essay was the details she gave about what her home life was like. According to Teigen, there were days when she could barely pull herself off the couch. "When I wasn't in the studio, I never left the house," Teigen said. She continued,
I mean, never. Not even a tiptoe outside … [m]ost days were spent on the exact same spot on the couch and rarely would I muster up the energy to make it upstairs for bed … I started keeping robes and comfy clothes in the pantry so I wouldn't have to go upstairs when John went to work. There was a lot of spontaneous crying.
According to her essay, it took Teigen eight months to ask for help about these feelings. That's when she was diagnosed with postpartum depression and anxiety (this was around December 2016, according to Teigen), and she was finally on track to making positive changes. "I remember being so exhausted but happy to know that we could finally get on the path of getting better," she said of getting her diagnosis. "John had that same excitement. I started taking an antidepressant, which helped. And I started sharing the news with friends and family."
Now, during this pregnancy, Teigen says she's confident that if she struggles with postpartum depression again, she has a community of loved ones who are there for support and doctors who are able to aid her through the experience. It's wonderful to see Teigen continually speak candidly about her struggles with postpartum because one of the biggest struggles for women who have it is the feeling that they're completely alone. So Teigen voicing her experiences is only going to help other women with theirs.