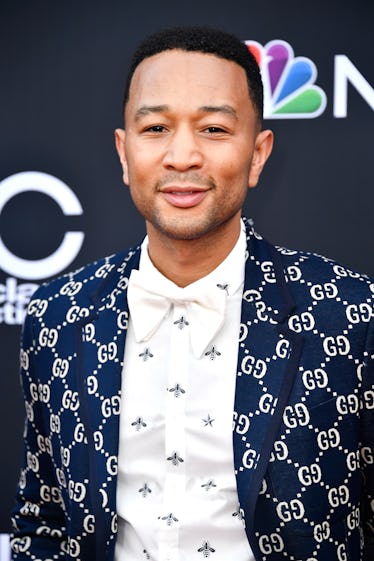 John Legend Just Revealed The Meaning Behind His Son's Name & It's Beautiful
Frazer Harrison/Getty Images Entertainment/Getty Images
John Legend walked the red carpet at the 2018 Billboard Music Awards without his lovely wife Chrissy Teigen. But she and their growing family were sure on his mind! Legend and Teigen welcomed a baby boy named Miles just a few days ago and the singer couldn't stop gushing about the little one on the red carpet. The proud father was happy to share some details about the newborn while chatting with E! News and all the fans out there were more than happy to hear them! Actually, John Legend's quote about his son at the Billboard Music Awards was so cute and heartwarming! And, honestly, when you read it, it's going to make so much sense!
So, here's what happened:
On the red carpet, a correspondent from E! News asked the singer all about his brand new baby boy. And Legend just went for it, explaining in detail why he and Teigen chose the name Miles for the new bundle of joy.
Here's what he had to say:
We just had a baby boy, Miles. Chrissy is at home watching. Hi Chrissy. We named our first daughter Luna Simone Stephens and every name we give to our kids will have a little musical history to it. So, Miles is the same name as the great Miles Davis and Chrissy really liked the name Theodore, so we put it all together and got the name Miles Theodore Stephens. When he came out and we hung out with him for a little while, we were like, 'He looks like a Miles.'
This baby-naming strategy makes way too much sense for Legend and Teigen. Obviously. Legend is one of the music industry's biggest stars. Plus, he's super knowledgeable about music history, so of course he'd give his kids musical names!
Miles Theodore Stephens' birth was announced on Wednesday, May 16. Teigen took to Twitter that evening to announce the birth to her and Legend's adoring fans.
"Somebody's herrrrrrre!" Tiegen tweeted, along with baby bottle and high five smiley emojis.
Such a cute way to tell the world that a new baby has arrived!
Just a few days later, on Sunday, May 20, Teigen shared a photo of the little baby on Instagram with the following caption:
Hello, world! This is Miles Theodore Stephens – We are drowning in his little peeps and nuzzles. Our household feels overwhelmed with love. Thank you for all your well wishes!
Oh my gosh, so adorable! Here's a snapshot of the little guy:
Is he not the cutest thing. He's so tiny and looks like he's in complete bliss. So sweet! Couldn't be happier for Legend and Teigen.
In addition to new baby Miles, Legend and Teigen are also mom and dad to Luna Simone, who is just two years old. So, they're already pros at this whole parenting thing.
As for how Teigen is doing postpartum, she gave a little insight via Twitter, writing, "I can confirm postpartum life is 90% better when you don't rip to your butthole. Baby boy: 1 point. Luna: 0."
Wow, that sounds… super painful. But it's great that she's having an easier go of the whole post-baby thing this time around than last. And it sounds like it'll be even easier if Teigen and Legend decide to have more children (but recent reports suggest a family of four is pretty comfortable for the happy couple).
Overall, this must be such an exciting time for Legend, Teigen, and little Luna. While Legend was out at the Billboard Music Awards, Teigen shared a few posts on Twitter that reflected her good humor about him not being with her.
While Legend waved at the cameras to his wife and daughter, Teigen tweeted the following:
Haha, so cute! I love their relationship.