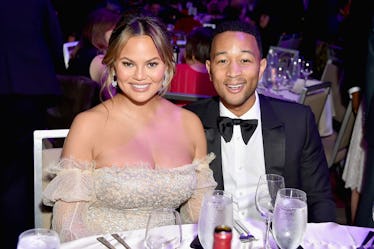 Chrissy Teigen & John Legend Probably Won't Have Any More Babies For This Reason
Mike Coppola/Getty Images Entertainment/Getty Images
Chrissy Teigen is officially a mom to a baby boy, you guys! The model mama announced she gave birth to her little guy — name TBD — on May 17, and she shared the big news on Twitter by succinctly announcing "Somebody's herrrrrrre!" I am so excited for the non-stop posting on social media to begin! The new addition joins big sis Luna, and now that there's one boy and one girl in the fam, I just want to know, will Chrissy Teigen and John Legend have more babies? Because Teigen is legit hilarious when she's pregnant, and I'll be seriously bummed if this was the last time she'll ever tweet about gaining pregnancy weight in her nose, or the possibility of getting a wax during her epidural.
That last idea is pure genius, BTW. No news yet on whether she actually made it happen, but OMG how amazing would it be if waxidurals became a thing? Totally just made that name up. It's good, right? Anyway, there is a little news re: the couple having more kiddos — and, sadly, it's not looking so good.
A source reportedly told E! News that Teigen had a "healthy and quick delivery," and that she and Legend "couldn't be happier and are so excited for Luna to be a big sister." But all that good news doesn't mean they're planning on giving Luna and her little bro another sibling. Apparently, "they are so ecstatic and have agreed that their family is now complete."
Wait, what?!
C'mon, guys! The world needs more pregnant Chrissy. Please, PLEASE tell us you'll go for the trifecta! Or, you know, do whatever works best for you.
Meanwhile, another source told E! that since their son has arrived, Teigen and Legend have just been hanging with their immediate fam, which is actually super cute. "Chrissy's mom has been there for every step and has been a lot of help with Luna," the source said. "Luna is loving her baby brother and John is excited to have a 'mini-me.' It's a very happy moment for the family."
Awwww! Congrats, guys!
We've known since November 2017 that Teigen was expecting her second child. And we've known since late January that the baby was going to be a boy. We even knew that The Lip Sync Battle star was supposed to deliver this spring after she spilled the beans during a visit to The Ellen DeGeneres Show on Feb. 19. And while there's been no official name announcement just yet, I'm pretty sure it's not Yanny.
Teigen previously revealed during a February 2018 appearance on The Ellen Show that she was having a hard time figuring out what to call her baby boy.
"Boy names are really tough," she explained. "I don't think he will even have a middle name because we can't even come up with a first name."
Of course, the talk show host was only too happy to offer up a few suggestions. "What about Urban Legend?" Ellen joked.
"I do like that," Teigen said, then added: "I've been toying with Dick Legend a lot. Can we say that?"
"Yes, you can say that," DeGeneres replied. "Just don't name him that."
Great advice, Ellen! As for going the "JJ" route — you know, for John, Jr. — looks like that's a non-starter, too. "John and his ego was like, 'I don't want him to feel like he has to live up to that,'" Teigen told DeGeneres. "And I was like 'Wow, you are a jerk.'"
BAHAHAHA. I just love these two so much. Their relationship is legit goals, and I am really happy they've finally welcomed Baby #2 into the mix. Although, TBH, Teigen seemed just a little apprehensive about how Luna was going to react to having a new little man around the house.
Me too, mama. Me too.