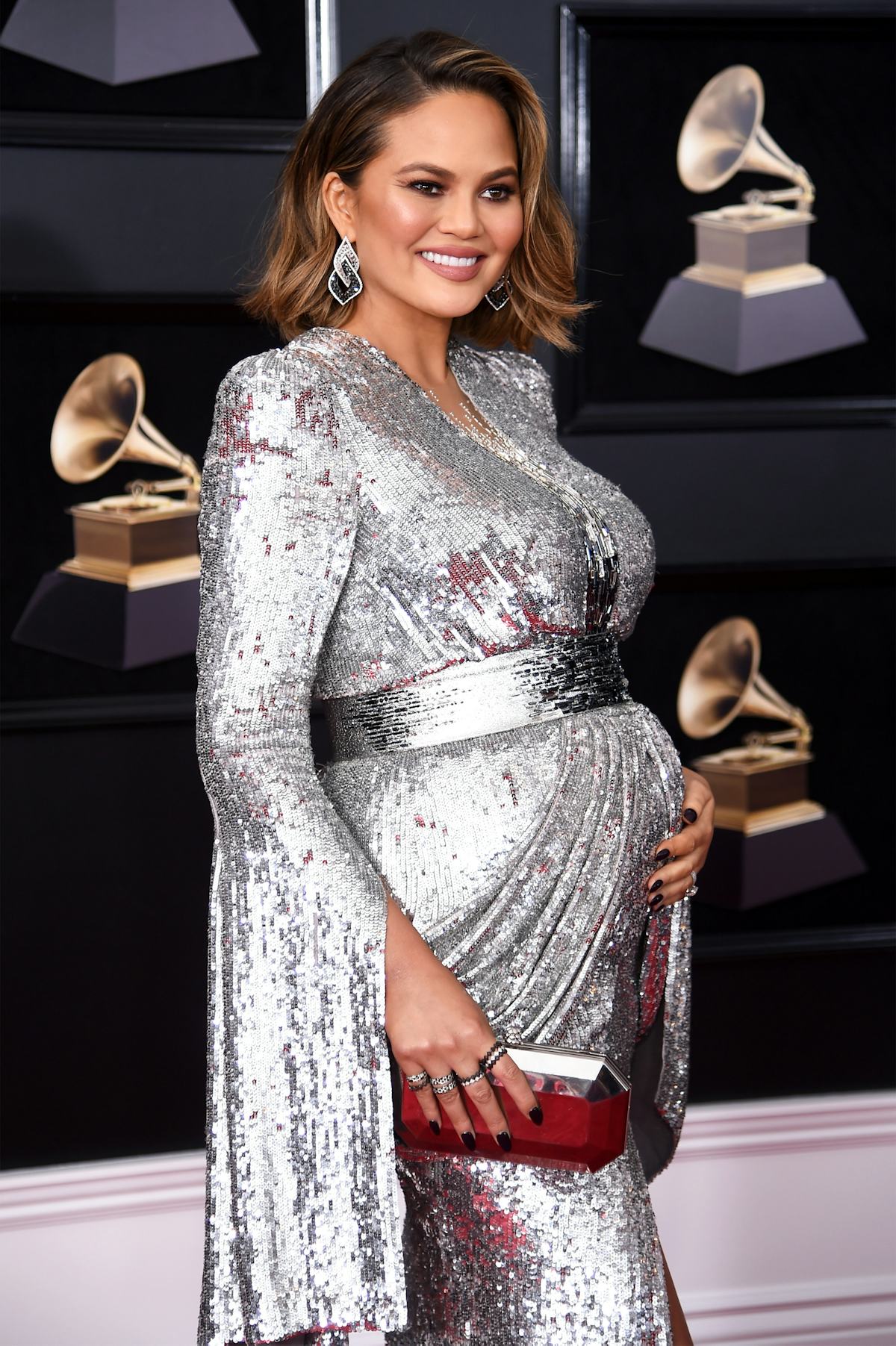 Chrissy Teigen Opened Up About Her Baby's Due Date & The Details Are So Exciting
Dimitrios Kambouris/Getty Images Entertainment/Getty Images
We've known since November that Chrissy Teigen is pregnant and expecting her second child with husband John Legend. And we've known since late January that the baby will be a BOY! What all of us fans weren't privy to, however, was when the little guy would actually be arriving. But The Lip Sync Battle star stopped by the The Ellen DeGeneres Show on Feb. 19, where she proceeded to just casually spill the beans. And guess what? Chrissy Teigen's due date is sooner than you think, you guys, and I could not be more excited! I mean, can you even imagine all the Snapchats?
"I'm having a baby boy in the spring. I'll tell you — it's June!" the 32-year-old model mama told DeGeneres. Good news for big sis Luna, who will be getting a new playmate just in time for summer! I am seriously loving the pre-July 4 timing, because you just know there will be videos of Teigen dressing up her newborn in patriotic diapers or something. Can't you just see it? Of course, despite the perfection of her daughter's name, Teigen revealed that the couple is having a hard time figuring out what to call the new addition, since coming up with an equally adorable boy name is apparently tricky business.
"Boy names are really tough," she explained to DeGeneres. "I don't think he will even have a middle name because we can't even come up with a first name."
Yeah right. Of course, the talk show host was only too happy to offer up a few suggestions. "What about Urban Legend?" Degeneres joked.
And, like, can that please, PLEASE happen?
"I do like that," Teigen said, then added: "I've been toying with Dick Legend a lot. Can we say that?"
"Yes, you can say that," DeGeneres replied. "Just don't name him that."
Sage advice.
As for going the "JJ" route — you know, for John, Jr. — looks like that's basically a non-starter. "John and his ego was like, 'I don't want him to feel like he has to live up to that,'" Teigen told DeGeneres. "And I was like 'Wow, you are a jerk.'"
Pretty funny. Teigen also told a sweet story about how she chose Luna's name. "It was a really beautiful night. Really big, red moon and just gorgeous," she explained. "I have this love for space and I think about space camp all the time and my days at space camp when I was a youngster. And so I thought Luna was just perfect and she's kind of the perfect Luna."
Hold up — Chrissy Teigen went to space camp? That's so Ross Geller of her. Maybe they'll name the baby Ben? Or Pivot? Or Unagi?
Teigen also chatted with DeGeneres about the host's recent 60th birthday bash, and about how difficult it was to take a decent pic in the photo booth with Kim and Kanye.
"It's so hard to pose with them," Teigen explained. "I don't know what to do. So I get too 'mean face' and John's just happy to be alive."
The struggle is SO real! Meanwhile, my fave part of Teigen's appearance on Ellen actually took place off camera, when the Sports Illustrated model hiked up her dress to show off her Spanx on the official Ellen DeGeneres Show Snapchat:
Gotta love her!
I am so excited for the Legends to welcome Baby #2 into the fam, although Teigen appears to be just a little apprehensive about how big sis Luna is going to react to having a new little man around the house. Check out this tweet she sent out last week:
So do I, mama. So do I.