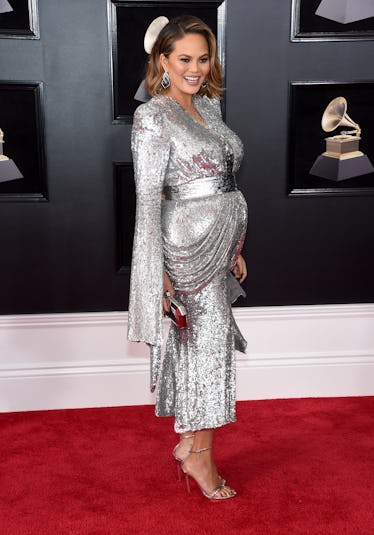 Chrissy Teigen Finally Revealed The Sex Of Her Baby & The Post Will Melt Your Heart
Jamie McCarthy/Getty Images Entertainment/Getty Images
Nobody freak out, but Chrissy Teigen has big news. The supermodel and wife to musician John Legend shared a small, teeny, little personal tidbit on Instagram on the night of the 2018 Grammy Awards, and everyone is collectively losing it. Yes, Chrissy Teigen confirmed she is having a baby boy, and her Instagram post will melt your heart.
We knew this day was coming, we just didn't know when it would. When we were all busy watching Bruno Mars clean up at the awards show, Teigen was low-key dropping this juicy little bomb on her social media. She showed up to the big event rocking a gorgeous, silver, sparkly gown and some seriously heavy eyeliner. Her baby bump was dressed up in all its awesome glory, and now, it's confirmed she had a little man in there the whole time.
Teigen posted the news after she and her hubby were already home for the evening. Earlier in the night, Teigen tweeted she and Legend made it home before 10:30 p.m., before the Grammys had even ended. About a half hour later, she shared some pictures from the red carpet, and she captioned one solo photo, "mama and her baby boy."
Record scratch.
Excuse me? DJ, play that track back.
Sharing big news in adorable ways is kind of Teigen's "thing." She announced her second pregnancy by posting a truly sweet video of her daughter Luna playing with her belly. In the video, Teigen asks her daughter, "Luna, what's in here?" meaning her belly. Luna adorably responds, "baby!"
I die, you guys.
She captioned that video, "It's Johns!" LOL.
Of course, Teigen has been extremely open and vocal about her journey with pregnancy and motherhood. Having suffered from postpartum depression after Luna was born, Teigen admitted to feeling like she has a little better of an idea of what to expect this time around. She talked about this in a candid interview with Refinery29, saying,
I'm sure my next one is going to be the complete opposite of Luna. But everyone has their own experience. Luna is really the first baby I have ever been around. So you have to go through your own thing with it, and no matter what happens, no matter how uncomfortable or comfortable you get with a baby, remember that it all changes the next week. If you're feeling safe now, it's going to get a little crazier the next week. If you're feeling crazy now, it's going to get so much better the next week. It makes you prepared for anything.
She continued by assuring those dealing with postpartum depression that there are better days in sight, saying that it's easy to get bogged down when you're in the thick of it.
When I was in the midst of everything, I could never imagine myself on the other side of it. Now, I'm able to look at September, October, November, December, and shake my head at how dark and crazy of a period it was. Unfortunately you can only really do that when you're out of it. There's no other way to explain it. And there's no better feeling than being out of it. Of course, you have your good and bad days. I just had a bad day a couple days ago. But the bad days do not outweigh the good days anymore. Just when you think it's really really bad, it's going to get better. So hopefully, if you're going through something tough you can find some peace in knowing that.
Many fans continue to wonder when Teigen is due, and some people think it might be as early as this April or May. That would mean this little gentlemen would arrive just in time for warmer weather and sunnier days.
Congratulations, Chrissy and John! Happy "casual night as celebrities at the Grammys with a baby on the way!"
Check out the entire Gen Why series and other videos on Facebook and the Bustle app across Apple TV, Roku, and Amazon Fire TV.