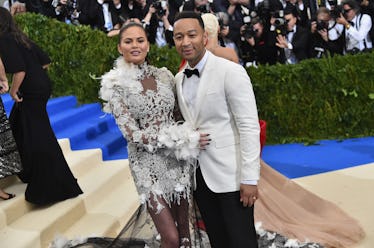 Chrissy Teigen Announced She's Pregnant With Baby #2 In The Cutest Video Ever
Mike Coppola/Getty Images Entertainment/Getty Images
You better grab hold of something or take a seat because Chrissy Teigen just announced she's having a second child. The model took to Instagram to disclose the news — technically, Luna spilled the tea. Chrissy Teigen's pregnancy news broke on Nov. 21 with the cutest video.
Since Chrissy Teigen and John Legend's daughter, Luna, is a pivotal part of their lives (and our social media accounts) it only makes sense that she told fans the exciting news. In the video posted on the model's Instagram account, Teigen and Luna are cuddling on the couch. Teigen then asks, "Luna, what's in here?" Luna responds with, "Baby!"
Teigen is known for her sense of humor on social media (if you don't follow her on Twitter — honey, what is you doing?), and didn't disappoint with the caption, "it's john's!" on her baby news. Perhaps the funniest part is John Legend's response. He commented on the picture, writing, "Maury will have the final world on this." Needless to say, fans were losing it over Legend's quick clapback. Teigen and Legend are basically the best couple in Hollywood, so their surprise pregnancy news has mostly everyone thrilled. I think I'm more excited about Chrissy Teigen's pregnancy news than I would ever be about my own.
Teigen and Legend first got together in 2006, and have basically been soulmates ever since. Teigen did reveal one snag the two had during a hilarious interview. A few years into their relationship, Teigen revealed that Legend tried to break up with her. The model told Cosmopolitan,
I was on tour with him and he'd gotten sick. He was feeling really bummed and stressed out. He was like, 'I can't be in a relationship right now.' That lasted for one day. I knew it came from a place other than us not working. I always joke, 'Remember when you tried to break up with me?' He's like, 'Yes, sorry. Big mistake.'
At least Legend has owned up to his ALMOST CATASTROPHIC MISTAKE. Legend did get a chance to tell his side of the story to The Guardian. However, it wasn't really that far off from what Teigen said. Legend revealed,
I was really stressed and busy. I was just, like: 'I'd just be happier single right now.' And she was like, 'No.'
I can't express how happy I am these two made it through — they seem so happy together. Now, they're a perfect little family (and growing). Luna was born April 14, 2016, according to People. She is absolutely adorable, and makes frequent appearances on both Teigen and Legend's social media accounts.
Legend shared the sweetest words about Luna during an interview with Stephen Colbert in April 2017. He said,
It's a different kind of love. It's very pure, it's unconditional — but they haven't earned it yet. They didn't do anything, they just exist and... Yeah, you love them completely, but it's not like built on anything other than… their existence.
Unconditional love from John Legend? THAT SOUNDS AMAZING. The couple keeps it very real when it comes to parenting — which is a great example to other parents around the world. Teigen even opened up to Refinery29 about her struggle with postpartum depression. During the interview she said,
Luna is really the first baby I have ever been around. So you have to go through your own thing with it, and no matter what happens, no matter how uncomfortable or comfortable you get with a baby, remember that it all changes the next week. If you're feeling safe now, it's going to get a little crazier the next week. If you're feeling crazy now, it's going to get so much better the next week. It makes you prepared for anything.
Needless to say, Teigen and Legend seem to be great people and make amazing parents. I seriously cannot wait for their second bundle of joy. Congrats, Chrissy, John, and Luna!
Check out the entire Gen Why series and other videos on Facebook and the Bustle app across Apple TV, Roku, and Amazon Fire TV.