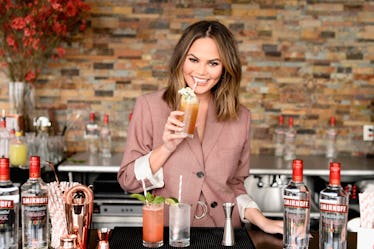 Chrissy Teigen's Daughter Luna Models For 'Cravings 2' Cookbook & It's So, So Cute
Dave Kotinsky/Getty Images Entertainment/Getty Images
I think we can all agree Chrissy Teigen and John Legend have the cutest daughter in the world, right? So, it's a total no-brainer that Chrissy Teigen's daughter Luna will be a model for her next cookbook. Given the photos that Teigen shared of Luna's photo shoot, I'd say she made a solid casting choice for the book.
Teigen and Legend have been pretty generous with sharing pics of their happy family and fans can't get enough of seeing Luna's sweet smiling face. Just recently, Teigen shared the happy reunion when Legend returned home from tour and it's so, so cute.
18-month-old Luna snuggles up to dad (shirtless, wrapped in a towel... just sayin') with the caption "Daddy's Home!" Prior to his return, Legend posted a video on Instagram captioned "Hi @chrissyteigen. Hi Luna," where he sang an a cappella version of his song "Coming Home." The lyrics: "It may be long to get me there / It feels like I've been everywhere / But you know that I'll becoming home."
Oh, my heart. Before Legend heads off to resume his tour on Nov. 4, he's got a little time to spend at home with his lovely ladies, including a visit to a pumpkin patch because, hey, (hay?), 'tis the season,right?
But let's get back to that cookbook, guys. Last year, Teigen announced the follow up to her wildly popular first cookbook, Cravings, showing off some of the recipes she was testing. On Nov. 4, 2016, she wrote: "It's happening! First day of cook bookin' for book two! Let me know if there's anything you'd looooove us to have in Cravings part two!"
She followed that with some of the options she was testing out, including roasted butternut squash salad, a spicy noodle dish, Thai options, and even a garlic bread made with hot dog rolls. Is your mouth watering yet?
Getting the recipes in order is half the battle, since Teigen needs some stellar photos to fill the book too, so why not turn to a model in the making right in her own home?
She kicked it off with ribs. Yummy, sticky, delicious ribs that you can never ever eat without making a mess, but it's so worth it. The perfect shot... Luna indulging in the messy meal, wearing all white. Perfection. Teigen captioned the adorable pic: "Shooting for #cravings2cookbook today!!! Luna eating @pepperthai2's garlic soy ribs."
Teigen shared another behind-the-scenes pic of the modeling shoot on Snapchat. Luna sits, rib in one hand, sippy cup in the other, with mom's perfect caption: "Hard day at work."
Teigen also posted a pic with their newest family member, an English bulldog puppy, writing: "Super secret shooting with Paul. Or Pablo. We can't decide. Both mom and Luna cannot pronounce Pablo. John won't call him Paul. This freaking house, let me tell you."
Fans, meanwhile are eagerly anticipating Cravings 2 because Teigen definitely has an amazing culinary gift.
And this reaction is too accurate:
Another fan noted: "some of the recipes she posted on snap are next level love u ‪@chrissyteigen."
When will Cravings 2 come out? In April, Teigen spoke with Refinery29 and gave this update:
I just started working on the cookbook again yesterday. As I talked about in my essay [about postpartum depression], I was going through a really dark time, so I had started the cookbook, and then I had to completely put it on pause, because it was a lot for me. So as of yesterday, I started doing really great, and I really got back into the mode of cooking. I've been emailing my editor and co-editor non-stop for the past two days making these recipes and brainstorming and I'm having so much fun. I'm really starting to feel like myself again. I'm going to try to knock out a bunch of recipes, go on tour with John and Luna, live on this tour bus, and then come back, do a few more recipes, shoot the cookbook, and then have it out for everybody by the beginning of next year.
Can't wait!
Check out the entire Gen Why series and other videos on Facebook and the Bustle app across Apple TV, Roku, and Amazon Fire TV.