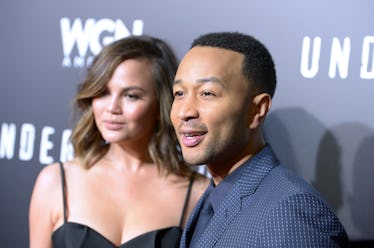 Chrissy Teigen Says She Will Try To Have A Second Child With John Legend Through IVF
Charley Gallay/Getty Images Entertainment/Getty Images
Celebrity baby news is always exciting, but when there are so many rumors about who's expecting, it's hard to figure out what's true. Is Chrissy Teigen having a second baby? This is a piece of gossip that's been floated before, but this time it's true.
Teigen isn't pregnant right now, but she confirmed that she and Legend have plans to add to their family, which includes daughter Luna. All together now: aww. Teigen and Legend already have about the cutest kid on the planet, so their beautiful gene pool is guaranteed to produce an equally adorable sibling for Luna.
Teigen told InStyle magazine that she and Legend are planning to get pregnant with their second child using in vitro fertilization "in the coming months." Teigen has been super open in the past about undergoing IVF to conceive Luna, and has been completely honest about the couple's fertility struggles.
This go-around, Teigen will have a frozen embryo from their fertility treatments implanted. The couple started with 20 embryos, which, after screening, resulted in three that she explained "you know are going to be good for your body."
She added, "The first little girl didn't work, and then the second is Luna."
The model also told InStyle about the postpartum depression she experienced, saying that she wanted to stay home with the curtains drawn, noting, "I thought I was just being a selfish *sshole." She added, "It wasn't just a mental thing of, you know, 'I'm sad.' I actually couldn't move."
While she's been open about her postpartum depression in hopes of helping other moms, she did note that some of the bad days she keeps to herself:
I have really good days and really bad days, and I don't tend to talk about the really bad days. But I would hate for people to think those days didn't exist.
As for her relationship with Legend, which makes them couple goals to basically the world, she noted that "I'm much luckier to have John's personality in my life than he is to have mine."
She admits that there's "a balance" to their marriage and it's cool to have an inside look at what makes their relationship tick. Teigen explained: "He is insanely patient and such a dork, and he loves seeing me happy, even if that means watching The Real Housewives of Dallas with me for two and a half hours. I mean, I don't care about half the sh*t he's doing either."
That's true love right there.
Teigen continued, "But there's a balance. If he's watching MSNBC and is excited about something, then I've got to be in that realm."
Are you taking notes? Because there's definitely a reason they're rock solid together.
In a recent interview with Us Weekly, Teigen gushed about her relationship with Legend, saying, "I got very, very lucky."
She added: "I don't know who else could put up with all the sh*t we are constantly dealing with. Kids, friends, and work are hard, but John is the easiest part of everything." Holy hell, these two.
And Teigen had the perfect reason for why they will always stay together, explaining: "I told him the No. 1 reason we are not getting divorced is because I refuse to see another woman with my baby."
She hinted to Us Weekly last month that they planned to get pregnant again, saying, "Hopefully we'll have even more in the future." Teigen added, "How would I not want to expand my family with this beautiful person? He's just everything."
See? Goals.
Check out the entire Gen Why series and othervideos on Facebook and the Bustle app across Apple TV, Roku, and Amazon FireTV.