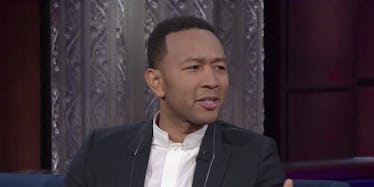 John Legend Gushing Over Seeing Luna For The First Time Will Give You Baby Fever
Youtube
You don't need me to tell you John Legend and Chrissy Teigen have swiftly become America's hottest parents. Chrissy takes care of that all on her own most of the time with her snapchats.
While John is usually the, um, quieter of the two (?), he recently visited Stephen Colbert on "The Late Show" where he gushed about being so, so in love with his perfectly, perfect daughter, Luna.
Be cool, ovaries.
In the interview John told Colbert,
It's a different kind of love. It's very pure, it's unconditional — but they haven't earned it yet. They didn't do anything, they just exist and... Yeah, you love them completely, but it's not like built on anything other than… their existence.
Unconditional love from John Legend based on nothing but my existence? SOUNDS GOOD TO ME.
John went on to explain that in looking at Luna, it is a beautiful reminder of the power of the love between him and his wife, saying, "Oh, it's beautiful, it's very emotional, and it brings you and your wife closer together."
He added, "It's a very, like... powerful feeling to see the product of your love right there in front of you."
Chrissy, who was open about her postpartum depression in an interview with Glamour, also explained to Refinery29 her experience as a first time mom.
Luna is really the first baby I have ever been around. So you have to go through your own thing with it, and no matter what happens, no matter how uncomfortable or comfortable you get with a baby, remember that it all changes the next week. If you're feeling safe now, it's going to get a little crazier the next week. If you're feeling crazy now, it's going to get so much better the next week. It makes you prepared for anything.
While the rest of us are nursing our food babies, luckily we have Legend and Teigen's social media accounts to live vicariously through their beautiful family.
All together now... AWWWWW!
Citations: John Legend Talking About The First Time He Held Luna Is Everything (Refinery29)