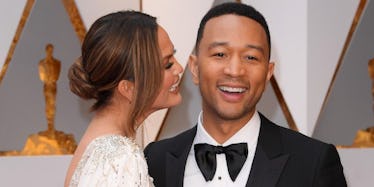 Chrissy Teigen Hilariously Trolls John Legend For Not Winning An Oscar
REX/Shutterstock
John Legend is an Academy Award winner, but... like... not for anything he did this year.
What? I'm just saying what Chrissy Teigen is thinking.
Monday afternoon, the day after the 2017 Oscars, Chrissy Teigen told followers on both Twitter and Snapchat,
Hey guys. Here joined by Oscar winner John Legend. Not this year.
Her husband, John Legend, won the Oscar for Best Original Song in 2015 for his work on the song "Glory" from "Selma." But as we all well know by now, "La La Land" didn't win Best Picture, so John Legend didn't get an Oscar this year.
At this year's ceremony, the singer/songwriter proved he should have been the "La La Land" leading man with an outstanding performance of a medley of songs from the Oscar-winning movie-musical.
(Sorry, Ryan Gosling. You are loved, but not everyone wants to watch you introduce jazz to the masses and wax poetic about soul food.)
Chrissy gently roasting her husband for not having a fresh Oscar won't keep fans from looking up to these two as -- you guessed it -- the ultimate #RelationshipGoals.
The Sports Illustrated model thinks it's pretty dumb anyone assumes she and John are the ideal couple based on the way they eat burritos.
Chrissy Teigen told PEOPLE,
I do think it's kind of silly. I love being that way because I love people looking up to somebody who has a relationship that's enviable, of course. But also, the things they say it for are so stupid, like, we'll be eating a burrito and someone will be like, 'Relationship goals!' and I'm like, 'Go get a burrito? Just eat a burrito!' ...We should definitely have higher standards of relationship goals, but at the same time, we're very happy to be people's relationship goals.
Deal with it, John and Chrissy. It's 2017, standards are low and the two of you clearly love and respect each other on a level many of us cannot understand.
Perhaps the internet has ruined love for the majority of us. Perhaps we will all die alone, clutching our phones as Chrissy's Snapchat story dances across our screens. Perhaps that's the best we can ask for.
OOF, GUYS. THE WORLD IS BROKEN AND SO ARE WE.