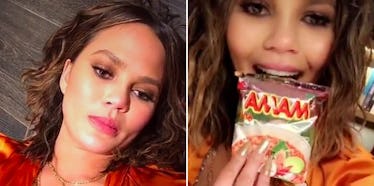 Chrissy Teigen Drunk Snapchatting At The Grammys Is You On A Friday Night
Snapchat
No matter what happens at any given awards show, you can always count on Chrissy Teigen to be #relatable.
Aside from John Legend's Beach Boys duet with Cynthia Erivo, Chrissy and John didn't spend much time in the spotlight at the 2017 Grammys.
But Chrissy more than made up for it on social media by having the best Snapchat story of the night by far.
In case you weren't aware, celebs are given a lot of free alcohol at these things, so Chrissy did what any reasonable person would do: got drunk and had a good time.
Same.
But the real fun started after the show, when she and John started playing a game called "Toilet Trouble."
They were joined by John's brother, Ron Stevens.
The game seemed to involve putting together a tiny toilet.
Chrissy could not keep it together, and I don't blame her. What kind of game is this?
Eventually, she gave up the on the tiny toilet and went home for some drunk ramen instead.
I think we've all been there.
Then Chrissy just rested on the floor for a little bit.
I think we've definitely all been there.
She said,
I'm on the floor and John's in charge of taking my jewelry off.
John, the best husband ever, did in fact take Chrissy's jewelry off for her.
It did not look easy, either.
They are the cutest.
Listen to this adorable exchange from the last video on Chrissy's story for the night:
Chrissy: Are you mad at me? John: Why would I be mad at you? Chrissy: I don't know, because I got drunk. John: You're perfect.
Is that not the cutest thing you've ever heard?
If only the toilet in my apartment was that nice to me when I got wasted.
Citations: Chrissy Teigen and John Legend Play Hilarious Toilet Game After the GRAMMYs (Entertainment Tonight)