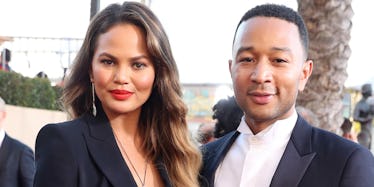 Chrissy Teigen Thinks It's 'Silly' John Legend And Her Are 'Relationship Goals'
REX/Shutterstock
When thinking of celebrity "relationship goals," who comes to mind?
For years, Brangelina served as the blueprint for a successful love life for many of us. Unfortunately, Brad and Angelina had their own set of troubles and eventually split up in September of last year.
Nowadays, there are plenty of picture-perfect relationships out there, but only some of them are "goals"-worthy. Chrissy Teigen however thinks it's silly people strive to replicate her relationship with husband John Legend.
In a recent interview with People, the 31-year-old was asked about fans labeling her relationship with her husband as #RelationshipGoals. Teigen responded,
I do think it's kind of silly. I love being that way because I love people looking up to somebody who has a relationship that's enviable, of course. But also, the things they say it for are so stupid, like, we'll be eating a burrito and someone will be like, 'Relationship goals!' and I'm like, 'Go get a burrito? Just eat a burrito!'
You know, Chrissy has a good point.
Let's not pretend we haven't seen people completely overreact on social media when it comes to their proposed aspirations in life.
John could eat chicken wings off of a plate on Chrissy's butt (literally), and the internet would glorify it beyond belief. But are those really the "goals" we wish to accomplish? Probably, but that's not the point!
Chrissy continued,
We should definitely have higher standards of relationship goals, but at the same time, we're very happy to be people's relationship goals.
In other words, she's saying we should be obsessed, but just not too obsessed.
We can all agree that's easier said than done... especially when their relationship has resulted in the creation of baby Luna.
The 31-year-old supermodel also spoke to the magazine about how "hesitant" she was to participate in the 2017 Sports Illustrated Swimsuit issue only 10 months after giving birth to her first child.
I think just my confidence level changed a lot, but once you get there and you see MJ [Day] rooting you on and this team of people just rooting you on, you're happy to do it. But I was for sure nervous, I still had my belly line, I mean, I had my stitches. I could get into a lot. You don't even want to know!
If her recent nude photo is any indication, I think it's safe to say Chrissy ended up being very comfortable in her own skin during her SI shoot.
Citations: Chrissy Teigen On Her Post-Baby Body In SI Swim and Why She and John Legend Aren't RelationshipGoals (People)