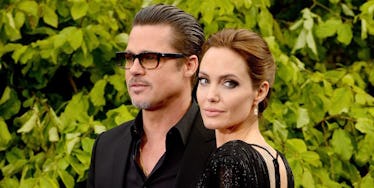 Brad Pitt Releases Heartbreaking Statement On Angelina Jolie Divorce
REX/Shutterstock
Brad Pitt would like to request that everyone please just leave his kids alone following the announcement of his split with Angelina Jolie.
A few hours after the news Angelina was filing for divorce broke, Brad Pitt released a statement to PEOPLE, saying "what matters most now" are his children.
He said,
I am very saddened by this, but what matters most now is the well-being of our kids. I kindly ask the press to give them the space they deserve during this challenging time.
The couple, who have six children, announced the end of their two-year marriage and 12-year relationship on Tuesday.
Following the initial divorce report from TMZ, Angelina's attorney released a statement. The statement read,
This decision was made for the health of the family. She will not be commenting at this time, and asks that the family be given their privacy during this difficult time.
Angelina later released an additional statement to E! News via her longtime manager, Geyer Kosinski.
The statement read,
Angelina will always do what's in the best interest of taking care of her family. She appreciates everyone's understanding of their need for privacy at this time.
In other words, PLEASE don't bother any one of Brangelina's six kids, you guys. Those children are already going through enough as it is.
In its original post, TMZ reported Angelina would be seeking full custody of their children, with visitation rights for Brad.
Six children sounds like a lot for Angelina to handle by herself, but luckily she has lots of money to hire people. Plus, if anyone can take on single motherhood like a boss, it's Angelina.
Yikes. This whole thing sounds pretty messy.
Citations: Brad Pitt Breaks Silence on Divorce from Angelina Jolie: 'What Matters Most Now Is the Well-Being of Our Kids' (People)