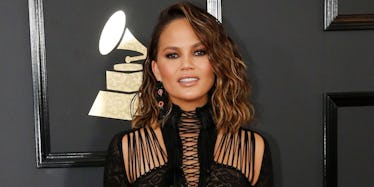 Chrissy Teigen Shares Sexy Nude Chair Photo: 'Just A Typical Press Day'
REUTERS
When Chrissy Teigen isn't fighting off the bloodthirsty trolls on Twitter, she's probably making post-Grammys Snapchat memories with husband John Legend and spending quality time with her baby Luna.
And when she's not doing any of that, she's likely posing naked just to make you drool. The 31-year-old star recently took to Instagram to share a sexy photo of her sitting on a chair while completely naked.
I'll give you a second to let the thought stimulate your imagination...
What have we done to deserve such perfection?!
In the breathtaking photo, a fully nude Chrissy Teigen wears nothing but a few coats of nail polish as she sits next to Sports Illustrated editor MJ Day.
The photo is captioned,
Just a typical press day with MJ Day for the launch of Sports Illustrated Swimsuit 2017!
Now, without further ado...
WHOA! During her shoot with Sports Illustrated, supermodel Chrissy Teigen shared this revealing nude photo of herself on a chair.
This is one of the moments where you have no other choice but to set your phone or laptop down and just smack yourself across the face.
Go ahead, do it. I'll wait...
Unfortunately, Sports Illustrated wasn't shooting a nude issue, but the breathtaking footage of a clothed Chrissy does not disappoint.
Honestly, we should have all seen the nude Instagram photo coming. Did you even see how she celebrated Valentine's day?! Two words: nipple pasties. You'll just have to see them for yourself, though.
When the 31-year-old model isn't dropping jaws, she's doing us all a favor and taking the fight to President Trump on Twitter.
Earlier this month, the model and mom did everything but bite her tongue when expressing her opinion on Trump's controversial travel ban. Teigen tweeted,
Donald Trump is an unwell, evil human being. To the core.
From crafting quality "thirst traps" on Instagram and shutting down the POTUS, Chrissy can do it all!