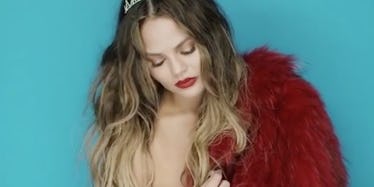 Chrissy Teigen Celebrates Valentine's Day With Heart-Shaped Nipple Pasties
Instagram
It's official: John Legend is the luckiest dude on the face of the planet.
Sunday night at the 2017 Grammys in Los Angeles, Chrissy Teigen and John Legend stole the show at numerous points in the evening.
Like, if these two aren't the living, breathing definition of couple goals, I don't know who is.
That was just the beginning, though, because at the end of the night, after Chrissy Teigen apparently had a bit too much to drink, Legend proved to be the best dude ever when he helped his wife take off her jewelry before bed.
Simply the best, right?
Well, Chrissy Teigen took her relationship with John Legend to the next level this Valentine's Day when she posed topless for a sexual photo shoot with Love magazine.
By a show of hands, who wants to see Chrissy Teigen wearing heart-shaped nipple pasties, looking sexy AF?
OK, fine.
BANGGGGGG!!!!!
To caption the above photo, Love mag wrote,
In case you weren't already excited for Valentine's Day, here's something to look forward to…⠀@chrissyteigen by @rankinarchive fashion editor @seanknight make up @patrickta hair @giannandreahair
Uh, guys, I think it's safe to say we're all very excited for Valentine's Day.
It gets better, though! Check out this sexual video of the 31-year-old Teigen rocking those heart-shaped nipple pasties like an absolute boss.
Real talk, how many views you think this video will get by the time all is said and done?
To caption the above video, Love mag wrote,
ICYMI today is Valentine's Day, also know as CHRISSY DAY! @ChrissyTeigen in @agentprovocateur by @RankinArchive fashion editor @seanknight make up @patrickta hair @giannandreahair
I mean, it's hard to argue with that logic, isn't it?
What's that, you say? There's another scandalous Chrissy Teigen Valentine's Day video? What are you doing to us, Love?
I need a minute. Seriously, guys, can I take a few to catch my breath and clean up the puddle of sweat underneath my desk?
No? OK, cool.
Y'all are really some savages, but I'm still going to hit you with one final gift this Valentine's Day.
Why yes, it is a five-minute video of Chrissy Teigen being sexy as hell while lip-syncing a John Legend song!
I'm dead. Can someone come sweep me off the floor and tell my family I love them?
Happy Valentine's Day!
Citations: Chrissy Teigen Rocking Some Red Nipple Pasties Is About The Best Valentine's Day Present Ever (BroBible)