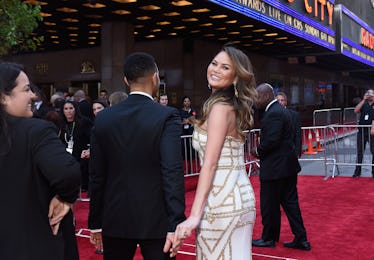 Chrissy Teigen Is Pregnant Again & Here's When She Might Be Due
Jenny Anderson/Getty Images Entertainment/Getty Images
Good news everyone! 2017 is not a total wash! Today, Nov. 21, 2017, we learned that Chrissy Teigen and husband John Legend are expecting again. Chrissy announced it via Instagram, as is the custom for celebrities to do in the second decade of the 21st century. She even got her first born, Luna, in on the act. So, when is Chrissy Teigen due? We investigate.
The use of Instagram is interesting, since the last major baby announcement that came via the social media service was Beyoncé's, which was announced in a amazing photoshoot and revealed she was pregnant with twins. Note that Teigen's announcement is the 180 degree opposite of that. She's not photo-shooting or breaking the internet. She's just the most relatable celebrity in all of history, hanging at home on her couch with her kid, trying to introduce to them the idea that soon enough they'll be a big sister. It's perfectly on brand. What mom in history hasn't had to do that?
The video is adorable, as is everything Teigen seems to do on social media. (She even makes yelling at Trump and being openly political adorable. It's a gift.) She asks Luna what's under the blanket, and reveals a definitely-somewhere-in-the-middle-of-the-second-trimester belly. Luna giggles and yells "Baby."
"Is it a baby?" Teigen prompts, just to make sure none of us missed what her kid said.
The caption reads "It's John's." Like we had any doubt about that.
Check out the Instagram video for yourself:
As to when the baby is due, as most know, parents don't usually share this news until at least the 12 week mark, lest something terrible happen during the first trimester, and they have to take it back. Celebrities, on the other hand, usually wait longer than that, letting the news out around the time when it becomes impossible to miss their growing bellies, and their wearing of maternity evening wear on red carpets.
(*One of the few exceptions to that rule is the Duchess of Cambridge, who's morning sickness has forced the Palace to announce royal pregnancies far earlier than they would probably like, since Kate's understandable absence at functions needs to be excused.)
Teigen here looks to definitely be farther along that the 12 week mark, probably hitting the four month or so point when the belly starts being hard to hide. If we're at, say, somewhere around the fourth or 4 1/2 month mark now, that means she'll be due sometime in late March or early April.
This is also a well timed announcement since we expect by the beginning of January, she'll be gracing red carpets on the arm of John Legend, whose Beauty and the Beast duet with Ariana Grande will most likely find itself nominated for a Grammy, if not also a Golden Globe or Oscar. (Beauty and the Beast is still the highest grossing film of 2017, and its presence at awards season is almost assured because of it.) This means that Teigen will be once again modeling red carpet wear in her final trimester, as she did with her first child.
This also means that if John Legend isn't successful this year in his quest to win an Oscar, like he was at the Oscars in February, it won't matter in terms of keeping their faces and names front and center in the magazines. It would of course, be great for her to pose on Legend's arm while he holds up a trophy in his other hand. But if not, the oohs and ahhs over her outfits and how she makes pregnancy look so good will suffice.