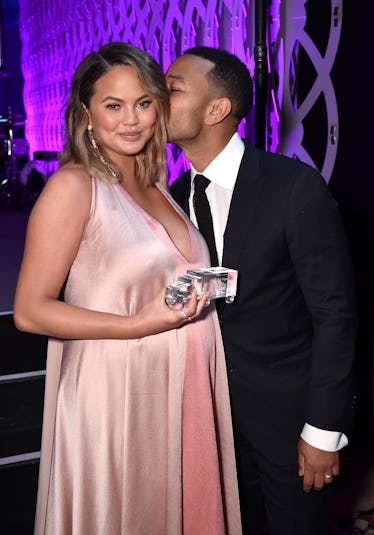 Twitter Has The Funniest Idea For Chrissy Teigen's Son's Name & Honestly, I'm Here For It
Bryan Bedder/Getty Images Entertainment/Getty Images
Chrissy Teigen and John Legend are parents of two! Teigen announced in a tweet in the early morning of Thursday, May 17, that she had given birth to their son. They haven't revealed the name of the baby boy just yet, but Twitter, as Twitter does, has already come up with a hilarious name idea inspired by the latest viral meme. What will Chrissy Teigen name her son? We might not know for days. But the internet has decided the baby's name should be Laurel. Not Yanny. Laurel.
In case you missed just about every tweet on Twitter this week, a video surfaced asking people to say what they heard in the video, either "Yanny" or "Laurel." It sparked a wild Twitter debate — the likes of which haven't been seen since that whole dress fiasco happened a while back. (The dress is white and gold, not black and blue. I will defend this until my dying day.) The video honestly sounds like a robot, but the debate is all about whether said robot is saying "Yanny" or "Laurel" in the short video. Personally, I hear it starting out with Yanny and then it evolves to Laurel, so I... don't know what that says about me.
But Teigen definitively hears Laurel and doesn't understand how people hear anything else.
During the debate, she tweeted, "it's so clearly laurel. I can't even figure out how one would hear yanny." When the debate pressed on, Teigen had apparently had enough and hilariously muted the words "Laurel," "Yanny," and "Yanni" on her Twitter feed so she wouldn't have to see the tweets anymore.
She posted a screenshot of her muted words and said, "it's time."
When I first saw this tweet, I 100 percent thought this was Teigen announcing that she was in labor because the photo wouldn't load on my phone. Turns out, Laurel. Or Yanny.
And now people want Teigen to name her son Laurel.
Come on, gender-bending names!
The funniest part about all of these tweets is the fact that Teigen is never going to see them because she muted the dang name.
Congrats, Laurel fans. You played yourself.
Chrissy Teigen revealed in an interview with Ellen DeGeneres that she and John Legend actually had no clue what to name their son. "Boy names are really tough," she said. "I don't even think he'll have a middle name because we can't even think of a first name." Might I suggest Laurel Yanny Stephens? No? You hate everything about this suggestion? OK. That's fair. Moving on.
Teigen joked in the interview she was toying with the idea of naming the baby Dick Legend, and that's honestly one of the most Chrissy Teigen things I've ever heard. DeGeneres flat-out told Teigen not to name her son Dick Legend, but she did suggest Urban Legend and Lunar Legend. Teigen said, "Everyone's like, 'Why don't you do the J.J. thing, John Jr.?' But John and his ego, he was like, 'I don't want him to feel like he has to live up to that.'" Classic John. She continued, "And I was like, 'Wow, you are a jerk. Sorry, heaven forbid he do what you do. So incredible.'" Classic Chrissy.
Whatever name they end up choosing, I think we can safely bet that it won't be Laurel or Yanny. Or Dick Legend. Or Urban Legend. And John Legend made it clear it won't be John Jr. They didn't reveal Luna's name until a couple of days after she was born (Luna was born on April 14, 2016, and they announced her name on April 17), so we might have to wait a couple of days before we find out what they named their son. But congrats to the family! (Please don't name the baby Dick Legend.)