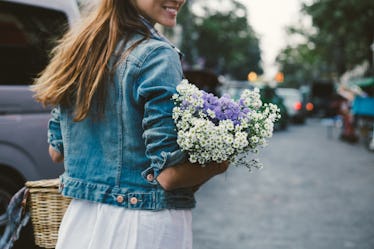 What Kind Of Flowers To Get Your Mom On Mother's Day, Based On Her Zodiac Sign
The sun is shining, the days are warmer, and soon enough, we'll be celebrating our moms. Spring is always a little bit sweeter when April showers turn to May flowers. Those daisies and daffodils are already blooming so beautifully, and they could be perfect for showing your mom some love this Mother's Day. You might have picked out a present already, or maybe you're thinking about buying a bouquet. Figuring out what kind of flowers to get your mom is simple, as long as you know her zodiac sign.
There's not a daisy that goes by that we don't think about our day-one lady. She's been there for us through it all — the soccer practices, the piano recitals, and all the endless dance parties to the Backstreet Boys in between. We don't know what we would do without her, or the life advice and unconditional love she gives along the way.
Maybe you'll spend Mother's Day going out to brunch for bottomless mimosas, getting facials at a spa, or even taking a weekend trip to a local city with your bestie. She deserves the world, so you don't want the day to pass by without showing her some appreciation. Even when you're so, so broke, flowers can be the best way to remind your mom that you care. Lucky for you, the universe has already figured out the exact flowers you should find. As long as you know her star sign, you're good to go.