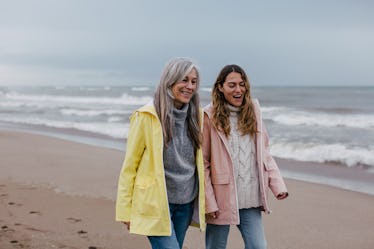 6 Times Your Mom Was Right & You're Only Realizing It Now
Thanks, mom. Seriously, some of us owe the lady who has been in our lives since day one all the appreciation. She's been there through thick and thin — the days of high school when you'd argue over everything, and the shopping trips you'd take on the weekends. You two would split a smoothie, or talk about your shared love for art museums and sitcoms. With Mother's Day coming up, we're thinking about our moms more than ever, and how we turned out pretty rad thanks to their advice and unconditional love. Truth is, there's been times your mom was right and you're really only realizing it now.
You could always count on her to have your best interest in mind. Even when you didn't want to hear the wise advice she had to say, you'd always take it a bit to heart. She'd drive you to soccer practice, and cheer you on from the sidelines at every game. Those bleachers couldn't have been comfortable, and she'd sit through all of your dance recitals, too.
Now, you're 20-something, and hoping there's still so much more advice to come. In the meantime, let's cue Taylor Swift's "The Best Day" and take a second to love our moms a little more. She was really right about these six things, and it's OK that you're only realizing it now.