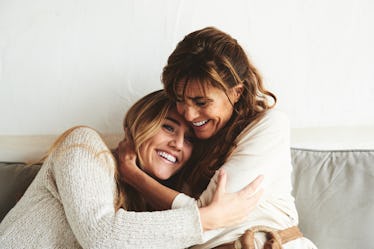 7 Unpredictable Ways To Show Mom How Much She Means To You When You're So Broke
Guille Faingold/Stocksy
She's quite literally your day one. Our moms will forever be appreciated for all that they do for us. Growing up, they were the ones we ran to when life got a little scary — when we fell at the playground, or when one of our siblings made fun of us at school. Now that we're 20-something, I can't say much has changed. We still go to her for advice, or when we need a shoulder to cry on. And she'll always make the best Backstreet Boys dance partner. If you're unsure of how to show Mom you love her because you're so broke, don't worry. She deserves a tropical island all to herself for sure, but these ways will be pretty sweet, too.
All of those moments when you found yourself feeling lost or confused, she lived. She knows you'll find your course just the same, and that the bad days are just built to make us stronger. We go to her when we need life tips because she seemingly always has our best interest in mind. She's been through life, so she knows it's tough. And it's comforting to know she'll be there no matter how far we wander.
Yup, it's safe to say she's pretty cool. You've probably raided her closet for old sweaters and those high-waisted jeans, and listened to all of her adventurous stories. Showing her some appreciation is so needed, and these seven ways will keep you under budget as well.