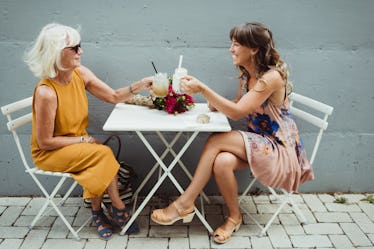 8 Mother-Daughter Date Ideas If You Want To Spend The Weekend With Your Day One
Kate Daigneault/Stocksy
What would we do without our moms? She's been around since day one, and you wouldn't want it any other way. Sure, sometimes you get into your fights, and there were those dreaded days in high school when you were just never on the same page. But, you two always seem to land on your feet and be the best of friends. She's probably the strongest person you know, and you can't get enough of all her life stories and advice. So, this weekend (and if we're being honest, every one after that), you'll want some things to do with your mom so you can spend your Saturday making memories with your favorite human.
Growing up, the best days were spent dancing to Backstreet Boys around your kitchen and going out to lunch to all of your favorite local spots together. You had mother-daughter dates with your other friends, and went apple picking in the fall. She'd take you to museums, maybe helped out in your school on the days she had off of work, and drove you to soccer practice. She's always been your number one fan, and any time you would see her on the sidelines, you couldn't help but smile and play a little harder.
This weekend, you want to seriously leave the work week behind, and make all those memories just the same. I don't think those dance parties ever go out of style or lose their spark. But, if you're looking for something else to do with your mom, then these eight things will make for time well-spent with your day one.