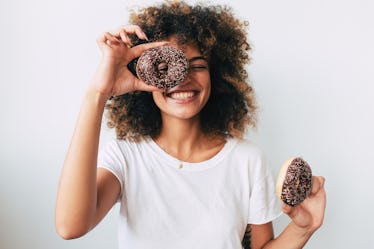 5 Best Dessert Spots For Galentine's Day, If You're Sweet On Your Besties
Lucas Ottone/Stocksy
Sugar, spice, and everything nice. It's finally February and we're feeling oh-so-sweet. Maybe you have a special someone in your life and are getting excited to dress up for date night, or maybe you're just crushing super hard on your friend crew. Your best friend is truly the best valentine you'll ever find, and you know she's in it for forever and always. Sure, those candy conversation hearts can really sum up your feelings sometimes, but the best way to appreciate the ladies in our lives is to hit up one of these Galentine's Day dessert spots. Nothing says "I'm sweet on you" like a spoonful of sugar, am I right?
We love Valentine's Day, but if we're being totally honest, the day before really takes the cake. If you're unsure what I'm talking about, let me give you the scoop. On Feb. 13, we show our gal pals a little extra love during an unofficial calendar holiday created by the one and only, Leslie Knope from Parks and Rec. It's a brilliant idea, because we love our besties, and it gives us the perfect excuse to have brunch. Waffles, anyone?
But, you don't have to stop with the syrup or settle for discounted candy this Galentine's Day. Sure, these spots might seem a little mainstream, but we wouldn't want to send you anywhere that isn't totally tried and true. The five desserts to come will so be worth the wait, and we can't think of a sweeter way to spend your day with your soulmates.