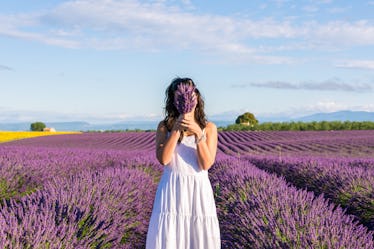 7 Vibrant Floral Finds Around The Globe You'll Want To Visit This Spring
Matteo Colombo/Stocksy
Spring has almost sprung, and we're so ready for it. We've already spent some time leaving behind the lazy life and cleaning our spaces, and pulled the sandals and sunglasses out of the depths of our closets. Seriously, we're in the mood for sunshine, longer days, and making some unreal memories way beyond just the month of March. As Meryl Streep says in The Devil Wears Prada: "Florals? For spring? Groundbreaking." And yes, telling you to put these flower gardens around the world on your bucket list might seem awfully cliché — but, it's also so necessary. This spring you're going to be blooming, and so you should surround yourself with the most lovely buds on this petal-filled planet.
Maybe you already have quite the green thumb, or are totally new to the garden scene. Personally, I have so many succulents that are so easy to take care of, including a cactus on my counter. They brighten up my space on the reg, and have me wanting to fill my passport with a whole lot of flower power.
Sure, there are so many colorful places to visit across the globe, especially if you're looking for that saturated spectrum. From the pastel houses of Cinque Terre to all the pretty in pink lakes around the world — there's no shortage of visionary vibes. But, these seven flower gardens and fields will make your life truly flourish, and have you stopping to smell all the roses this spring.