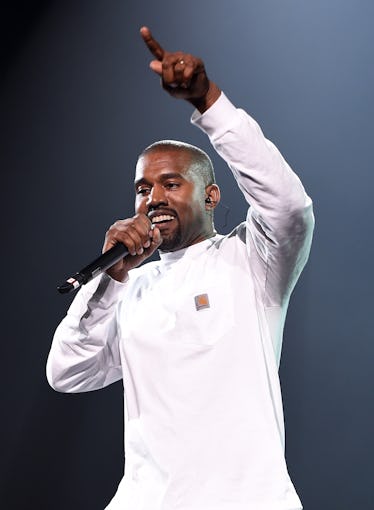 There May Be A Dating Site For Kanye West Fans Coming & This Is Literally A God Dream
Dimitrios Kambouris/Getty Images Entertainment/Getty Images
These days, there's a dating app for pretty much everyone. Trump supporter? There's an app for you? Hate Trump? There's an app for you! Jewish? There's an app for you! Catholic? There's an app for you! Farmer? You guessed it. There's an app for you. Super into underwater basket weaving? OK, I can't confirm it, but I would venture to guess that there is, in fact, an app for you somewhere. And now, there's even an app for Kanye West lovers. So next time you're out and you hear people asking, "what is Yeezy.dating?" you can tell them this: It's the app specifically made for fans of one of our modern world's biggest artists: Kanye West.
Looking for a bae you can take a romantic walk along the beach in your matching Yeezys with? This app's for you. Looking for someone you can rap all the words to "Gold Digger" with? This app's for you. Looking for someone you can cuddle with on the couch as you weep at the beautiful lyrics to "Hey Mamma" with? This app's for you. Looking for someone you can watch Keeping Up With The Kardashians with, without the fear of being judged? This app's for you. Looking for a future spouse who will be OK with sharing your first dance at your wedding to Kanye's "White Dress"? This app's for you. Want someone to vent to about your feelings about Taylor Swift? THEN THIS APP IS DEFINITELY FOR YOU.
I know what you're thinking. But what if I meet someone on the app and start talking smack about Taylor Swift only to find that they also like Taylor Swift?????!?! Well, first of all, I think we can all agree that any true fan of Kanye would not also be a fan of Taylor. But even if you're still nervous about an overlap happening, worry no more! The app specifically bans Taylor Swift fans from joining.
The app isn't quite live yet but their website gives potential users the chance to get early access by providing their emails. Below the sign up, there's an asterisk note that reads: "* Taylor Swift fans are banned from this website." Yep, that's right. They're BANNED. Yikes.
For those of you who are out of the loop on the history of West's beef with Swift, let me give you a little refresher. It all started in 2009, when Taylor Swift won the MTV VMA for "Best Female Video." Kanye wasn't pleased with that decision, so he decided to interrupt her speech by hopping on stage and making it clear that he really thought Beyoncé deserved the award.
After that tensions were high, but it seemed as though the two made up and managed to become cordial. Buuuuut that didn't last long. Seven years after the VMA incident, West came out with his song "Famous" and rapped in the song, "For all my Southside n***** that know me best/I feel like me and Taylor might still have sex/Why? I made that b*tch famous (Godd*mn)/I made that b*tch famous."
This is where things got really heated. West claimed in a since-deleted Tweet that he had asked Swift for permission in an hour-long phone call with the artist. Taylor's camp denied the tweet with this statement:
Kanye did not call for approval, but to ask Taylor to release his single 'Famous' on her Twitter account. She declined and cautioned him about releasing a song with such a strong misogynistic message. Taylor was never made aware of the actual lyric, 'I made that b*tch famous.
Swift then proceeded to call him out in her 2016 Grammys acceptance speech she gave for her Album of the Year award:
And as the first woman to win Album of the Year at the Grammys twice, I want to say to all the young women out there, there are going to be people along the way who will try to undercut your success or take credit for your accomplishments or your fame.
Finally, however, in the summer of 2016, Kim came to her husband's defense and ended the feud once and for all by releasing videos West on the phone with Swift, who was explicitly giving West permission to run the song. Since then, Swift fans and West fans have remained pretty divided.
So now, if you're looking for Kim to your Kanye or vice versa, then look no further. Yeezy.dating is here to make that happen.
Check out the entire Gen Why series and other videos on Facebook and the Bustle app across Apple TV, Roku, and Amazon Fire TV.
Check out the "Best of Elite Daily" stream in the Bustle App for more stories just like this!