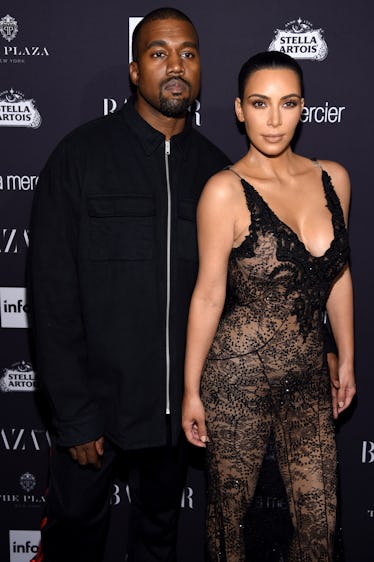 Kim Kardashian Shared Why She & Kanye West Are A "Good Balance" & It's So Sweet
Dimitrios Kambouris/Getty Images Entertainment/Getty Images
You have to hand it to Kim Kardashian and Kanye West. Both are impossibly famous in their own right, but put together, they are in a league entirely on their own. Whether you love 'em or hate 'em (don't do that), they should at least have your respect, because those two manage to totally crush life together. And Kim Kardashian's quote about Kanye West will make you realize that they are so, so in love with each other, which will in turn make you realize how much you love them.
In an interview with Elle Magazine, Kardashian opened up about her personal life and brought up her three children, North, Saint, and Chicago, as well as her husband, Kanye West. She mentioned how having four children would be her absolute limit:
I don't think I could handle more than that. My time is spread really thin. And I think it's important that in all couples, the mom gives the husband as much attention as the kids.
Preach.
In regard to her marriage, though, she had the sweetest things to say about her growing relationship with Kanye:
He's taught me to have more of an opinion. I've taught him to be a bit more calm or cautious. We're a good balance.
This is too pure. Too damn precious.
And I LOVE it.
While what she said is beyond sweet, there is literally nothing more perfect than when Kim told the story of how she and Kanye met and fell in love. On the 10-year anniversary special of Keeping Up With The Kardashians, she reflected on her love story:
I met him I think in 2002 or 2003. He was recording a song with Brandy, and I was her friend. I vividly remember hanging out with him and then they did a video together, so I'd see him a few times. He was asking his friends: 'Who is this Kim Kardajan?' He didn't know what my name was. Right before I got married to Kris Humphries, [Kanye and I] were talking, and I just went a different direction. I think I had to go through that to figure out what I wanted.
Early '00s? Kris Humphries? Brandy?! I forgot how much I loved this story. She continued:
After my breakup, I was feeling really low and down and he said, 'Just come to Paris and see my fashion show.' He jokes that he put on this whole fashion show just to get a date with me. So I went there and I stayed with him, and that's where we started dating. I swear from the moment I landed, I fell madly in love with him and I thought, 'Oh my God, why didn't I do this sooner?' Like, this is what real life is like — love and fun and real support.
BRB, swooning over the fact that they were basically fated to be together.
Even Kanye has spoken publicly about his relationship with Kim K, calling what they have, "a love story for the ages," because what's more timeless than a legendary rapper and an iconic reality star falling deeply in love? He and Kim Kardashian went on Hot 97 and told Angie Martinez,
I knew that I wanted this family, and with her, I felt like our love story's a love story for the ages. I felt like when we first got together, it was like a Romeo and Juliet kinda thing where it's like she's a reality star and I'm a rapper, and people were talking about how are brands connect and what doesn't fit. And I'm just so tired of the conversation of brands, why don't we start the conversation with love?
Who knew that Kanye was such a hopeless romantic?
It's clear that these two are head-over-heels in love, so let's give our modern-day Romeo and Juliet a round of applause for being so damn adorable together.