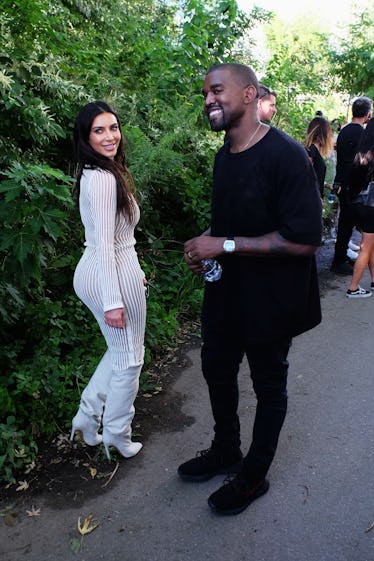 6 Things You Never Knew About Kim & Kanye's Relationship Until Now
Jamie McCarthy/Getty Images Entertainment/Getty Images
You don't have to be a pop culture junkie to know Kim Kardashian and Kanye West are on another level. The two have somehow combined their ultra-famous powers to create the most fascinating and extravagant lifestyle you and I will ever have the pleasure of seeing in our lifetime. Together, they have taken over music, fashion, television, beauty, technology, and more. They have so openly shared their lives with their fans, it feels like we know all there is to know. However, I'm sure there are things you never knew about Kim and Kanye's relationship even if you are their number one fan.
Thanks to some of their unique circumstances (i.e. money), Kardashian and West simply have more access to more things than the average American. This makes their day-to-day lifestyles more extreme in almost every way. It also makes their relationship truly unique. With the exception of Beyoncé and JAY-Z — *bows* — you will be hard-pressed to think of a more dynamic power couple. With Kardashian's abundant following and West's larger than life personality, it truly seems like anything is possible for these two. And ya know what? That's because it is.
Here are a few of my favorite wild facts about Kim Kardashian and Kanye West.
1. They had their wedding in Florence because that's where they conceived North.
You guys remember it. Keeping Up With The Kardashians followed Kim and Kanye's journey to Paris where the couple abruptly swept their family and friends away to Florence. (Ah yes, the regular ol' European city bait-and-switch.) Eventually, the public learned the duo moved their nuptials to the city where they conceived their firstborn, North.
Can you imagine? "Hey, Mom and Dad! We're getting married in Florence because that's where we 'did it!' Happy wedding to us!"
2. Kanye once commissioned a painting of Kim in a thong with the words "Perfect B*tch" painted on the side.
Then, he gave it to her as a gift. Untraditional, no? Reports say West commissioned the famous anonymous street artist, Bambi, to create the portrait. According to the report, Bambi's manager Leonard Villa said West wanted "something regal but typically Kim." Regal... Right...
3. Kim once rented an entire Island for Kanye's birthday.
She even admitted it in an interview with Harper's Bazaar. Kardashian said, "I rented an island for his birthday. A far, far away place where no one can find us." West followed up, stating,
You see, those are the type of statements that make people not like us, more so than the 'I'm the best' statement. It's more the 'Oh, yeah, I just rented an island for his birthday ...'
4. Kanye was there when Kim recorded her single "Jam."
PLEASE TELL ME YOU REMEMBER "JAM"??? Kardashian even once posted behind-the-scenes footage clearly displaying West watching her perform. This was a 2011 mega-hit, THANK YOU VERY MUCH, which went down well before West and Kardashian kicked off their romance.
5. Kanye let North paint on a multi-thousand dollar purse as a gift for Kim.
Yup. Paint. Like, finger-paint... with her hands... on a multi-thousand dollar purse. Kanye had his daughter go wild on the expensive bag as a 34th birthday gift for his wife. North was just one year old at the time. Kardashian showed off her "custom Hermès" purse on Instagram with the caption, "Me & my bae out today. Wearing my favorite bag painted by my little North."
Reportedly, Hermès purses can range anywhere from 10 thousand to 100 thousand dollars. Oh, North. You're so rich and you don't even know it.
6. They bought multiple strollers before North was born to ensure they matched her skin tone.
I mean...
We saw Kardashian explain to Scott Disick on KUWTK how she wasn't sure exactly what her daughter's skin would look like and how she wanted to make sure her stroller didn't clash. She said, "I want to see what skin tone my child is... It'll be a variation of a skin tone, so I'm just trying to see what color will look good."
Kim and Kanye, you're so extra and I so love it. Never change (unless it's in some new incredible way that I'm sure you and your PR team are already planning).
Love to love!
Check out the entire Gen Why series and other videos on Facebook and the Bustle app across Apple TV, Roku, and Amazon Fire TV.