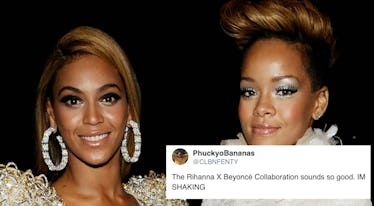 Beyoncé & Rihanna May Have Collaborated On A Song & Twitter Is Exploding
Larry Busacca/Getty Images
The moment that pop music fans have been dreaming about for years may finally be here. Rumors are bubbling up online that Beyoncé and Rihanna are recording a song together, bringing the Beyhive and the Rihanna Navy together for the very first time on a track. Nothing is confirmed just yet, but a short audio clip started making the rounds on social media on Sunday night that sounds a lot like Queen Bey's vocals alongside bad gal RiRi's, and fans are praying that this turns out to be a real song.
A fuzzy, 10-second clip that sounds like Beyoncé and Rihanna singing together on a new song is blowing up online. The audio clip was originally posted to Instagram by a music producer named Earth Quake, who teased that he was working on new music with Rihanna last month. After fans heard the short clip in Earth Quake's Instagram story, it began getting shared widely on Twitter and quickly went viral, with music fans excitedly pointing out the vocal similarities to Beyoncé and Rihanna in the pair of voices featured on the track. Although you can totally hear the similarities, the short clip is not enough to conclusively determine that this is indeed the Bey-Rih collab we've all been waiting for, but it's definitely pretty promising for optimistic fans. Check out the audio clip that has Twitter in a frenzy below:
I mean... it's hard to really tell, but that sounds pretty convincing, right? Plus, this producer has been teasing new music with Rihanna for a while now, so there is some credibility there. We also know that both Bey and Rih are reportedly in the studio working on new albums right now, and Beyoncé is about to headline Coachella next month before embarking on a world tour with husband Jay-Z — a new hit song would certainly amp up the excitement for her upcoming live shows (as if the excitement weren't already amped-up enough for a Beyoncé concert).
Once the snippet started making the rounds online, Twitter freaked out over the possibility of a Beyoncé and Rihanna collaboration finally happening. Check out some of the best responses below:
Although Rihanna and Beyoncé have never collaborated on music before, the two do have a pretty close professional relationship. Rihanna has been signed to Jay Z's record label Roc Nation since 2014, and she released her 2016 album Anti on his streaming service, Tidal. Obviously, Beyoncé also works very closely with her husband, Jay Z, making Bey and Rih label-mates. When Beyoncé announced that she was pregnant with twins last year, Rihanna congratulated the singer and called Jay Z her "big brother."
Of course, Beyoncé and Rihanna are two of the biggest names in the music industry right now, and since both are signed to the same label and both are reportedly working on new albums for 2018, rumors have been flying for a while now that they may drop a collaboration. The brief new audio clip may sound pretty sketchy, but the producer who posted it, Earth Quake, did post that he was working on new Rihanna music recently:
Sooo, could this leaked audio be legit? The major thing that makes a potential leak questionable is the fact that Beyoncé is famous for never letting any of her music leak ahead of time. Although leaking has been a problem for a number of major pop stars, Beyoncé is known to run an incredibly tight ship when it comes to the people she works with, which is what made her self-titled 2013 album and her 2016 album Lemonade such massive surprises when she dropped them with absolutely no warning. Would Bey really allow a producer to leak a snippet on Instagram? I guess we will just have to keep waiting to see if this turns out to be real or not.