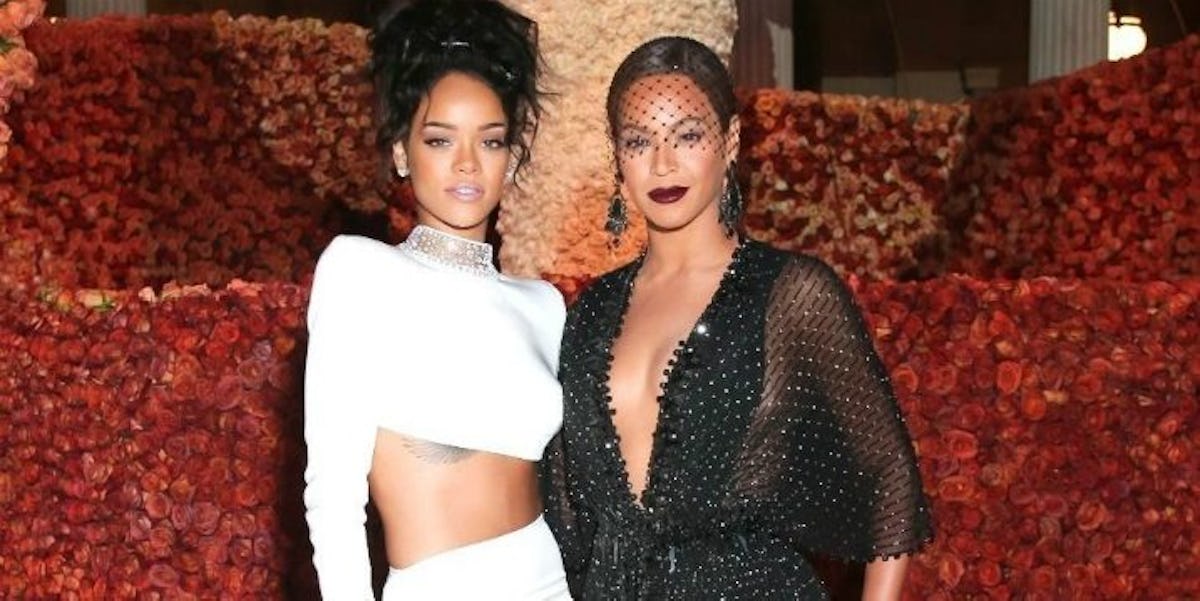 Rihanna Congratulates Beyoncé And Her 'Big Brother' Jay Z On Their Pregnancy
REX/Shutterstock
You remember when Beyoncé dropped her self-titled visual album a few years ago out of nowhere and shocked the world over the fact so many people were able to keep a secret?
And then do you remember when she announced her and Jay Z's first baby Blue Ivy a few years before that by rubbing her belly at the VMAs?
The tummy rub confirmed what people speculated: She was pregnant. It wasn't like when I rub my belly, which confirms that I am really proud to have finished a whole grande burrito by myself.
Well, fool me Beyoncé, shame on you. Fool me Beytwicé, shame on me.
I vowed never to be caught by surprise again by Queen Bey, so I have been expecting another baby announcement for a long time.
But she's good... She done got me again.
Beyoncé announced earlier on Wednesday that not only is she pregnant -- she's pregnant with twins.
Naturally, a number of stars posted well-wishes to the couple, including Rihanna who took to Instagram to congratulate Beyoncé and Jay Z, whom she refers to as her "big brother."
Within just the first 45 minutes after the "Lemonade" singer revealed she was expecting twins, over half a million people tweeted about the news.
Chrissy Teigen, who just slammed some troll about making babies on Twitter, sent out a hilarious congratulations to her friend.
Tina Knowles, Beyoncé mother, Instagrammed out the same photo of her daughter with this caption:
WOW I don't have to keep the secret anymore. I am soooo happy. God is so good. Twin blessings. Thank you for all your well wishing beautiful messages . I appreciate them soo much.
Even Ellen DeGeneres commiserated with the pregnant singer.
Also, this photo totally goes to show only Beyoncé can pull off this look.
Seriously, imagine signing on to Facebook and seeing your cousin used this exact pose/flowers/outfit to announce her pregnancy? You'd be like, "Classic Breanne -- that is the tackiest thing I have ever seen."
But Beyoncé is flawless and looks like a goddamn angel.
The singer will appear at the Grammys on February 12 and is set to headline Coachella in April.
Citations: Beyonce's Twin Pregnancy Announcement Dominates Social Media -- See the Reactions (ET online)